Brooke showcases Global Farriery Project at largest farriery event in Europe
Brooke was pleased to host a stand at the annual British Farrier and Blacksmith Association (BFBA) Farrier Focus in Warwickshire from 28-29 October.
At the largest gathering of farriers in Europe, attendees had the opportunity to learn about Brooke's Global Farriery Project, which transforms the farriery trade in low-and-middle-income countries using an innovative mentoring framework.
Angus Wiseman, Global Farrier Advisor at Brooke, said: "This event gave us the opportunity to engage with farriers and other equine professionals, to broaden awareness of Brooke as an organisation and specifically the work we are doing through the Global Farriery Project to improve the welfare of working equids."
During the event, Brooke highlighted the work it does to support farriers, including training farriers to become mentors in their communities.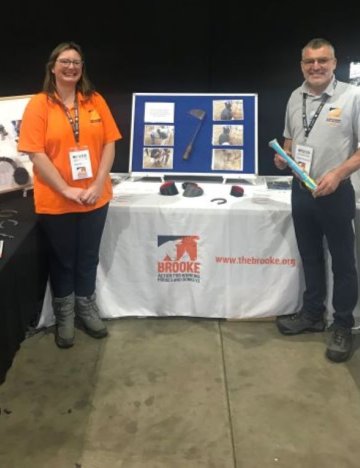 Brooke also promoted its innovative training aids aimed at those with low literacy levels, including 3D printed hooves and horse limbs, and illustrated pocket books.
In 2019, the Global Farriery Project celebrated its biggest milestone to date as Senegal launched an official accredited certification in farriery, thanks to two years of input from Brooke West Africa. Thought to be a first in Africa, it is hoped that this advancement can be replicated elsewhere.
BFBA Farrier Focus  also included lectures from world-class farriery clinicians, live demonstrations and a farriery and blacksmith trade fair.