Brooke Ethiopia named best performing NGO in West Arsi zone
Brooke Ethiopia was named joint best performing Non-Government Organisation (NGO) along with Life Water at this year's GO NGO Annual Forum Meeting in Shashemene on 30 January, a jump from third place in 2019
The Forum, organised by the regional Finance and Economic Cooperation Bureau, assessed 55 NGOs operating in the West Arsi zone of the Oromia regional state, with World Vision and Goal Ethiopia taking third and fourth place.
The judging panel shortlisted organisations based on how well they strengthen partnerships between government and communities, as well as the proven impacts of their projects.
Brooke Ethiopia relies heavily on community work, and has built a strong rapport with taxi horses to improve animal welfare knowledge with their owners. They are also working with local government to help improve farriery services. 
My special thanks go to our field team who have been working with local teams in the forefront under so many challenges. I would also like to thank the Senior Leadership Team for the support they've provided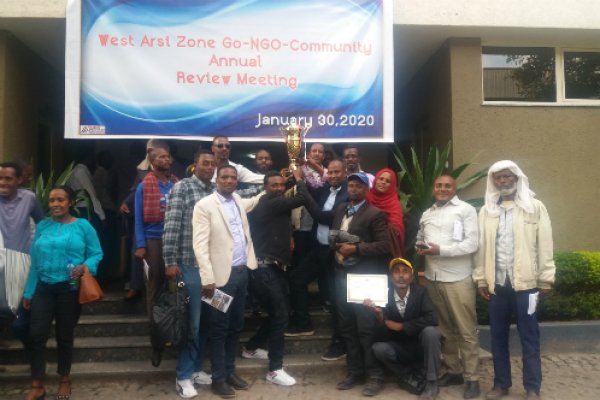 There are over eight million donkeys in Ethiopia, more than any other country. In rural Ethiopia, working equines, mostly donkeys, transport water, grains, fuel wood and agricultural products. In urban areas they transport goods and people.
Recent achievements for Brooke Ethiopia include the start of a large scale collaborative research project into the debilitatin disease Epizootic Lymphangitis (EZL), which has affected a significant number of horses and donkeys in Sub-Saharan Africa, and the building of a brand new equine welfare and training centre in Dodola in late 2018, which has provided a much needed resource for the area's many working horses, donkeys and mules.