Breaking the bias this International Women's Day
In many of the communities Brooke works in, women are the main care givers for their family's working horses and donkeys. In fact, a 2009 report by the FAO found that two-thirds of livestock keepers in low income countries were women.
Many women also contribute financially to the health and wellbeing of their families and animals.
This International Women's Day, Brooke is breaking the bias and shining a light on some of the women making a difference in their communities.
Working to improve animal welfare
25 year old Khady lives in Bambey, Senegal, with her husband, three children and her parents-in-law. In 2019, she became a community animator, which means she promotes Brooke's work and good animal welfare practices within her community. She said: "I raise awareness in the communities, telling them about horse and donkey welfare, how to take care of their animals and the importance of them."
She adds: "I like the fact that I can speak to people in my community and share my knowledge with them."
Meanwhile, in India, Bhagwan is a member of an equine welfare group. She got involved with Brooke after the team started working in her husband's brick kiln in 2010 and soon became a Community Resource Person. Brooke has trained Bhagwan on identifying and treating colic, glanders and tetanus. She said: "It is my duty to help people who cannot diagnose their equine's diseases and I can show them how to use the first aid kit to treat their animal."
Donkeys enable women to earn a living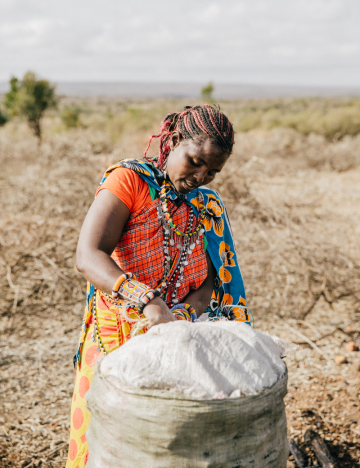 In Kenya, 47 year old Kisima lives with her nine children and two donkeys, who help her with domestic chores such as fetching water, and also enable her to earn a living.
Every morning, Kisima wakes up at 4am to do chores before taking her two donkeys to collect charcoal, which she sells at her local market. Together, they walk 2 hours to market, to be there for 11am. Whilst there, Kisima uses her earnings to buy her donkeys water and fodder before making the journey home. She earns approximately 2400 Kenyan Shillings (KSL) a day selling charcoal at the market, which is approximately £16. She relies completely on her donkeys to earn a living, without them, she would not be able to transport the charcoal to market.
She said: "The income I earn, I am earning from the donkeys."
Also in Kenya, the Kaliluni women's group in Mwingi work together to produce ropes from sisal plants that they make into soft harnesses and tethering ropes for donkeys and bags to sell. Initially, the group would strip the sisal leaves by hand, using a machete attached to a tree trunk. However, this was incredibly time consuming. So, the group got in touch with Brooke and our partner Caritas and we provided them with a fibre machine, enabling them to make noticeably better quality ropes at a much faster speed.
Group member Ruth said: "The money we make has really helped us as a group. Our children don't stay at home, they go to school. Us as women, we feed ourselves. No one stays hungry. And we even have our own bank account where we save money."
Working horses, donkeys and mules are a lifeline for many women and their families. Without them, many people would suffer. Brooke builds a safety net made of trained vets, farriers and other animal health workers to protect animals from injury, pain and disease.