How legacies transform lives
Leaving a gift in your Will helps us sow the seeds of change so they can be felt for years to come – our work within communities today means millions of working horses, donkeys and mules will feel the benefit for generations to come.
Small steps today to make big changes tomorrow
Mbithe's life is intertwined with his young owner Collins. Like so many working horses, donkeys and mules, Mbithe is the backbone of his family; helping them to earn money and carry vital supplies.
Collins is 13 years old and has already taken on the responsibility of caring for his family's donkey. Over the past three years he has been learning about good animal handling and welfare through his school's Donkey Care Club.
The Donkey Care Club teaches children like Collins how best to care for their animals, and good handling is an integral part of this.
Children learn that kindness means a contented animal, whereas roughness can lead to fear and mistrust. They also learn how best to feed their animals and take care of their overall well-being.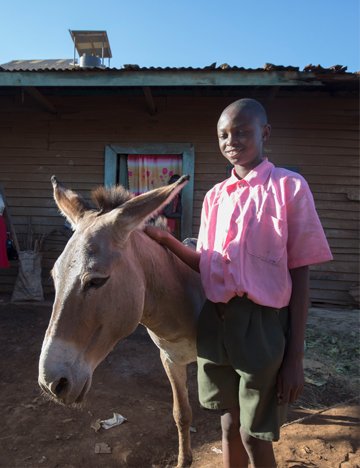 "I come home from Donkey Care Club and tell my mother and my brother about how to treat our donkey. I tell them we must let him eat very well because he is part of our family."
Collins Githaiga and his donkey Mbithe.
By including a gift in your Will, you will be helping to improve the lives of working animals (like Mbithe's) for generations to come – fostering positive human-animal relationships through education, clear guidelines and mentoring.
Find out how to leave a gift in your Will - it couldn't be easier.
Brooke supporters and communities around the world share why gifts in Wills are so important and what they want to pass onto the next generation.
Find out more about including a gift in your Will
SEE ALSO
Find out about the types of gifts you can include in your Will, as well as practical hints on how to write or update a Will. 
Our free Will writing services help you write or update a simple Will for free.
See how we will use your gift to protect as many working horses, donkeys and mules as possible.