How your gift Will be spent
Your simple act of kindness will go a very long way – helping us to focus our efforts and funds into where the need is greatest across the world.
54% of our income comes from gifts in Wills
Thanks to the generous donations from our supporters – including those who chose to remember Brooke with a donation in their Will – in 2019/20 we were able to protect over 1.51million working horses, donkeys and mules, over 824,000 owners and nearly 12,000 communities.
And because we work within communities to make a difference at ground level, the changes we make are long-term and sustainable and will last far into the future.
So whatever gift you make, big or small, your legacy will build a brighter future for vulnerable working horses, donkeys and mules around the world.
Katherine's experience
See how a Brooke article inspired Katherine to support Brooke and make a positive change to the lives of working animals that will last year after year.
The road to happy feet
Many working horses, donkeys and mules walk for miles every day, struggling on overgrown hooves, and if their lameness isn't treated, they can end up unable to walk.
Correct hoofcare by a well-trained farrier could prevent this. But a lack of training and resources means that farriery is an unregulated industry. Farriers often don't have the knowledge of hoof anatomy to achieve the best outcome for the animal.
With the help of our generous supporters we've been able to develop a farrier-training programme that helps aspiring young farriers learn technical expertise and safe handling. And thanks to those who have already chosen to leave a gift in their Will to Brooke we can ensure programmes like this can continue to run long into the future.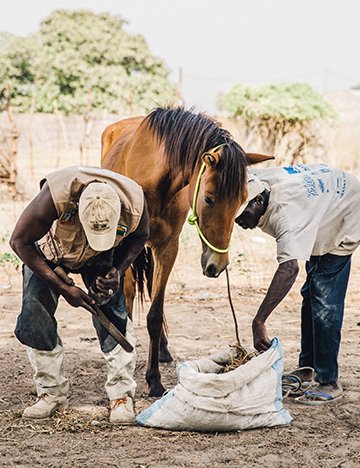 "Brooke's education and hands-on training not only directly benefits the health and well-being of equines, it benefits the owners who depend on them, the communities they live in and humanity as a whole."
Judith included a gift in her Will because she wants to stop animals suffering due to a lack of knowledge.
Find out more about including a gift in your Will
Find out about the types of gifts you can include in your Will, as well as practical hints on how to write or update a Will. 
Our legacy specialists can help with any questions you might have about including a gift in your Will.
Read heart-warming stories about the transformative power of legacies on entire communities and their working animals.