Q&A with Alastair Stewart
1. How many horses do you have?
15 horses and ponies.
2. What are their names?
The first four that spring to mind are Harriet, Penny, Phoebe and Dormouse.
3. How old are they?
Dormouse is 15 but our animals range from youngsters to veterans.
4. Do they have an interesting back story e.g. are they rescued, did you breed them yourself?
Dormouse is an Exmoor rare breed and as part of their protection programme they are gelded. This prevents there being too many stallions in the wild herd on Exmoor but ensures the future of the breed.
5. Describe your horse's personality
"Dormouse is a lovely companion – he's a world champion fence destroyer and costs us a fortune in repairs! He'll cheerfully barge through a fence to come and talk to us."
6. Where does your horse live/spend most of their time?
Most of our horses spend all of their time out in the fields, with the exception of the older ones who come into the barn on cold and wet nights – as do our showjumpers. We've got New Zealand rugs for every animal to make sure they stay warm in chillier and wet weather.
7. How do you make sure your horse is healthy? Do you have any tips on keeping your horse healthy?
Make sure all the fields are completely clear of ragwort at all times.
Always have fresh water in each field.
The more delicate horses like the showjumpers have supplements but mainly they get to graze on lovely fresh grass. We like to keep them in as natural environment as possible.
8. Describe your horse's social life? Do they spend time with other horses or animals? 
They all have their own friendships but some get along better than others. For example, Penny and Phoebe, the younger showjumpers,  love each other – and rather wonderfully the older Harriet is part of that 'superior ladies' group! Dormouse is the only male and he chats to everyone – he's also a bit of an uncle type figure to many of the others. We also have an arena at home so they are all schooled from time to time as well as hacked out.
9. What is your horse likely to spook at and how do you deal with it?
None of them are particularly flighty but some of them are more precious than others, like our showjumpers.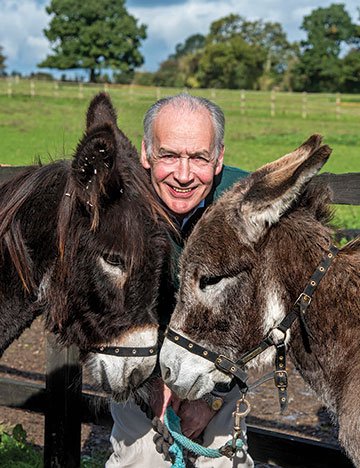 10. What's your favourite thing about Brooke's work around the world? 
Brooke and the work that the charity does in aid of working equines in developing countries is very close to my heart. My family has kept horses and donkeys for many many years and we all have a real love of equines. The efforts Brooke makes to deliver sustainable change to the lives of less fortune equines is the thing that most impresses and inspires me – the community training and persistent efforts to change people's behaviour towards their animals really is making a tremendous difference to millions of animal's lives.