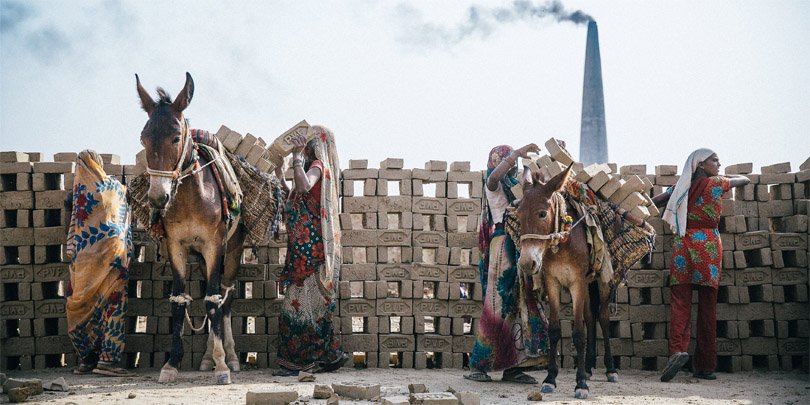 Every day, across all the countries where we work, donkeys, horses and mules spend their lives carrying heavy loads in the boiling heat at brick kilns, coal mines and slate mines. Imagine if your working day started at 3am. For seven days a week you lift heavy loads with minimal rest, in intense heat. Resources are limited to meet your nutritional needs - you experience hunger and thirst. Equipment is poorly fitting – you feel pain from the resulting wounds. Imagine working with these physical and mental challenges every day.
 
As the construction industry in India, Pakistan, Nepal and Afghanistan booms, the number of animals and people working in these challenging conditions will continue to increase. The key is working with the people responsible for their welfare, who work equally as hard.
You can help us do this by putting your loose change in one of our cardboard "brick" collection boxes (which are much smaller and lighter than real bricks!). Order your box and get your friends, family and work colleagues involved and fill your box even faster. The money from your brick could help train more owners to provide water, prevent wounds and keep their animals in good health. It's simple things like these that can make a long term difference.
How to send us the money you've raised
Once you have filled your collection box you can send us the money raised in the following ways:
Online
By using our donate form (select Make a one-off payment, enter the amount you're sending us, tick the Select if the money has been fundraised box and select how the money was raised from the drop down menu).
Over the phone by credit or debit card
Call 020 7470 9393
By cheque
Made payable to Brooke and posted together with a completed paying in slip (PDF 283KB) to:
Brooke
2nd Floor,
The Hallmark Building,
52-56 Leadenhall Street,
London,
EC3A 2BJ