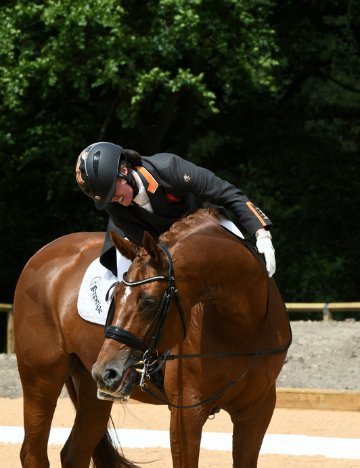 Do you have a memory of a horse that meant a lot to you?
My first dressage horse Wurlizer, or Wizard at home, is very special to me. I first got him when I was 15 and he was 5 and we learnt together all the way up to International GP. On the way up we won at both our National and Winter championships and also competed at the young rider European championships. He is now happily retired at home and I owe him so much for all he taught me and the experiences we had together.
Why do you enjoy riding? What emotions do you feel?
I'm not sure exactly what it is about horses and riding that I enjoy so much but I can't imagine being without horses and doing something else. I'm very lucky that I grew up around them and it certainly is a 'bug'.
Have horses or riding got you through a difficult time, or made a happy memory stronger?
When I was 10 years old my Mum was diagnosed with breast cancer so I took over the care of her first dressage horse Dacapo II, known as Dexy at home. I used to muck him out before I went to school and I'd help tack him up when his rider, Kate Smith, came to ride him. This was what really got me into dressage too.
I'm supporting Brooke's Every Horse Remembered campaign because… we are very fortunate to live how we live and have horses that we can enjoy. There are many people all over the world who aren't so lucky and Brooke is invaluable to them in helping them keep their horsesfit and healthy so that they can earn money to enable them to live their day to day lives.
Help today's working horses around the world