A global issue. A crisis in Kenya
Will you stand against the slaughter of working donkeys?
Hundreds of thousands of donkeys are slaughtered for their skins and exported annually, mostly from Africa, causing donkey numbers across the continent to decimate. It is driven by demand from China, as skins are boiled to produce 'ejiao', a gelatin used in traditional Chinese medicine.
Donkeys are often stolen from families who depend on them for their livelihoods – families often already struggling and living below the poverty line.
Brooke is calling for a ban on the trade of donkey skins from Kenya and a crackdown on cross-border smuggling of donkeys into Kenya for their skins. 
"My entire family's needs and my needs depend on my donkey. From my donkey I am able to get a salary, I pay rent and even school fees."
Kenya is at the epicentre of the donkey skin trade. Up to 1,000 donkeys in the country are thought to be killed daily for their skins - In 2018 alone almost 160,000 donkeys were killed in slaughterhouses, translating to 8.1% of the population. Research by the Kenya Agricultural and Livestock Research Institute (KALRO) has predicted that if the trend of slow population growth and increasing slaughter continues, donkeys in Kenya could be wiped out by 2023.
To make matters worse, people are having their donkeys stolen to fuel the trade, and 60 donkeys a week were stolen from owners across Kenya in 2017. Stolen donkeys are often horrifically butchered in the bush or on the street. The theft pushes families into poverty as their main source of income is taken.
Since declaring the issue a crisis in Kenya, Brooke East Africa has been helping owners who have lost their donkeys set up the National Network of Donkey Owners. Silas is secretary of one of these groups in Kimbimbi: 
Four legal slaughterhouses are currently running in Kenya. The country's newest one is located near the Ethiopian border, promoting the smuggling of donkeys into the country. Across country borders, the donkey skin trade carries a major risk to welfare and health, as seen in April 2019, when Brooke witnessed an outbreak of equine flu in West Africa that killed 60,000 donkeys in Niger alone. The World Organisation for Animal Health (OIE) believes that it was linked to illegal transport of animals accross borders. 
"The donkey hide trade is decimating the population of donkeys in some of the world's most vulnerable communities. The figures are now unsustainable. We've reached a crisis point. This is a global crisis."
What is Brooke doing to help?
Brooke is working to eradicate the donkey skin trade crisis in Kenya through various initiatives. 
We work on the frontline with donkey-owning communities. Brooke East Africa and their partners have helped to set up over 400 groups with over 9000 members.  
We fund community-led initiatives to protect their donkeys.
We add resources on the ground to expand lobbying and community engagement.
We mobilise communities and help them gather evidence and present it to their governments.
We collaborate with other animal focussed organisations to learn from their experiences. 
We alerted the World Organisation for Animal Health (OIE) and the Food and Agriculture Organization of the United Nations to get the issue on the worldwide agenda.
How can you help?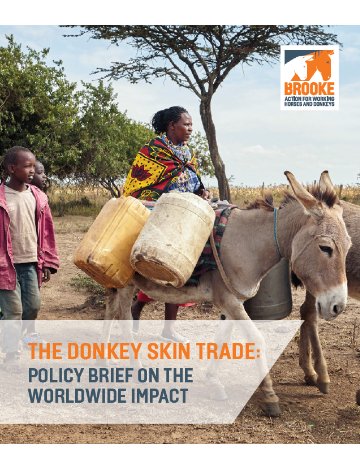 Further Reading