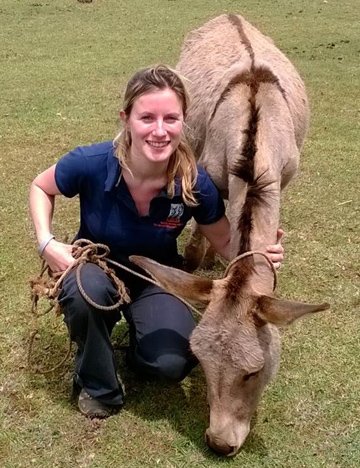 What time does your alarm go off and how do you start your day?
My alarm goes off at 5.15am and I then feed multiple cats and dogs whilst making a cup of tea which I just about have time to drink before heading for the station and my commute into London.
What are you responsible for in your role at Brooke?
I am responsible for supporting Nepal and Afghanistan with their service provision (veterinary and farriery) work. When not providing this support in person by travelling to the programme I am in constant contact via Skype, email and WhatsApp to mentor and coach them with difficult cases and to help them design training to deliver to other veterinary professionals they work with. The whole UK service provision team works to provide resources for learning both in our country programmes, the UK office and externally to supporters. This includes running e-learning courses, facilitating clinical discussion forums, encouraging evidence-based practice in our country programmes by staying up to date with current research and speaking at events to raise the profile of the work Brooke does.
How did you get your job?
I was a fulltime equine vet beforehand but I'd done some international work when I was a student. After a very bad day at work (in a job I did normally enjoy) I idly flicked through the job pages and saw Brooke advertising. I had fundraised for Brooke when I was about 7 years old so I knew what the charity did and I couldn't believe there was a job going that I was actually qualified to do so I applied straight away.
What is your typical day?
I get into the office at 8am where I'll usually have breakfast and a (strong!) coffee at my desk whilst catching up with emails. If the overseas teams have been in touch I'll try to respond to them first which might mean doing some research around a topic before summarising it for them or advising them on how to deal with a case. The rest of the day might involve meetings with people from other teams to try to ensure that service provision work fits with work that is being done with communities and advocacy. I am currently editing a working equid specific medicine formulary and planning a workshop on farriery with other organisations so I'll usually try to switch off emails to focus on these projects for part of every day.
What's your most memorable work moment?
Presenting at the Working Equid Colloquium 2014 – there were 200 delegates in the room purely talking about working equid welfare and it was so exciting to be part of something where everyone was so passionate about what we're doing.
What is the worst part of your job?
When we visit the field and are surrounded by suffering - both human and animal - it can feel overwhelming but our country programme teams do this every single day which is so admirable so you can't really afford to let that get you down.
What is the best part of your job?
When I am training vets in skills that will make a huge difference to animals' lives and they suddenly get it and they are so pleased they've achieved this skill and I know that I helped them get there.
What would be your Plan B? What would you be doing if you didn't work at Brooke?
I love writing and I love travelling so a travel writer would be ideal!
What do you do after work?
I leave work much more promptly since I've had my son and although I still work on the train home I make sure I have a couple of hours with him in the evening. Once he's in bed if I haven't got a 5.15am start then definitely a glass of wine with my husband!
What makes you #ProudToBeBrooke?
Working with a great team around the world.
How we work