Jennifer Wathan - Global Animal Welfare Adviser
Jen oversees all of Brooke's animal welfare work, ensuring it has the best impact on the animals we work with.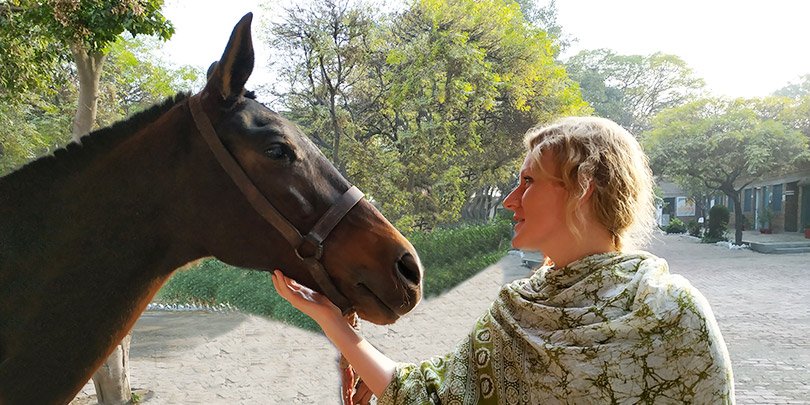 What time does your alarm go off and how do you start your day?
I live quite a long way from the office so my alarm goes off at 5:42am. At that time of the morning, every minute of extra sleep counts, so I normally start my day running down the hill from my house to the station, desperately hoping I don't miss the train.
What are you responsible for in your role at Brooke?
I have an overview of all the animal welfare work going on across Brooke, and I'm responsible for guiding that work so it can have the best possible impact on animals. This involves looking at evidence and experience from within Brooke alongside advances in science and other fields, and then working with Brooke staff on how to apply it to what we do. Because we work at a local level, this varies all over the world, which makes my role really interesting. I get to see the different types of work we do and then think about how they fit together to achieve our mission and vision. 
How did you get your job?
I have quite a varied background: I have some experience in the UK equestrian industry, but also in science (psychology and neuroscience), and I have a passion for travel, exploring and the natural world. I spent a long time feeling torn between these interests, and between dong science and applying it. Finally I found Comparative Psychology, where you look at behaviour across different species, and completed a PhD (with a focus on equine behaviour) in that.
I then began working in the charity sector, first with the Riding for The Disabled Association and then Brooke, where I'm so lucky to have a role that encompasses all my interests.
I'm an advocate for people being encouraged to follow their passions, even if they're not leading down an obvious path; they'll come together eventually.
What's your typical day?
There's no such thing! 
In Eastern Kenya I met a woman who told me she realised her donkey "needed time to chat and laugh with her friends."
What's your most memorable work moment?
In Eastern Kenya I met a woman who told me she realised her donkey "needed time to chat and laugh with her friends". 
You can never eliminate negative experiences from life, and quality of life is about the balance between positive and negative. Having positive experiences is so important to help build personal resilience and help us cope with the negative ones – this is as true for people as it is for horses, donkeys, and mules.
What's the worst part of your job?
I struggle if I have to sit behind a computer for too long. 
And the best part?
Being in the field and meeting the animals and people we work with. Also working with such fantastic colleagues – all over the world they are amazingly lovely, dedicated, and so talented.
What would be your Plan B? What would you be doing if you didn't work at Brooke?
Who knows? Probably something like an expedition leader, helping young people to realise their potential and connect with the natural world, or a writer. Or something completely different, like a baker.
What do you do after work?
I mostly just relax at home by making a nice meal and hanging out with my husband, but if I've worked from home and I have a bit more time, I spend time with my horse. It amazes me that I never get bored of equids, even after working with them all day, I'm still happy to hang out with them in my spare time too.
It's a quiet but courageous organisation. 
What makes you #ProudToBeBrooke?
I love that Brooke looks at the whole picture, and is not afraid of difficult challenges or very complex situations. It's a quiet but courageous organisation.