Gemma Stevens, née Tattersall
Gemma Stevens became an official Brooke ambassador in 2021, having supported the charity since 2017. Gemma brings an enormous amount of equestrian knowledge and profile to the role.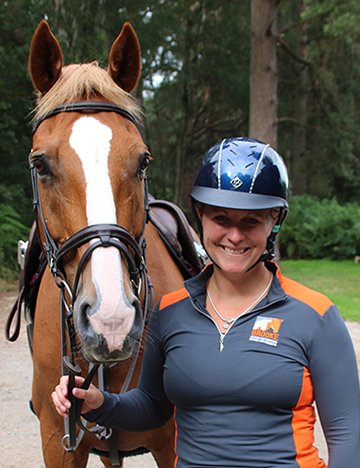 Gemma is a British Olympic event rider and one of the world's most recognised horsewomen. Starting riding at the age of 18 months old Gemma has never looked back. She has been part of the British World Class Programme since she was 16 years old winning numerous international championships and awards over the last 20 years.
In 2005 Gemma won two team gold medals representing Great Britain at the young rider level and in 2010 became U25 National Champion. In 2016, Gemma competed at the Rio Olympics and was part of the Gold medal winning Team at the World Games in Tryon in 2018. Gemma became the first woman to win at the prestigious Event Rider Master Series in 2017,  the first to finish on a score of under 40 in an ERM and the lowest ever score for Chatworth's CIC3*.
2019 saw Gemma crowned British Open Champion with the mighty Arctic Soul and a special highlight was receiving her Armada Dish for the completion of five Badmintons. In 2021 Gemma took the 5* win at Bicton, a fabulous achievement for the whole team and very well deserved.
Alongside her great success in Eventing, Gemma is also a keen show jumper and is seen out on the circuit regularly. Recently, she has made the step up to competing at 1.40m level and has competed internationally with success. Although her true passion still lies with Eventing, her plan is to develop the show jumping and to ultimately be competing at top level in both disciplines.
As well as being a dedicated ambassador to Brooke Gemma is already making plans for Paris 2024.  
Gemma is a huge advocate for animal welfare and has been supporting Brooke since 2017 in a variety of ways; including social media posts to her 100,000+ followers, donating prizes for giveaways, campaigning for Donkey Care Clubs, supporting activities for Brooke's MyHackathon and more. Gemma is a passionate equine welfare advocate and all horses' well-being is of upmost importance to her and her team.
I like to see horses, donkeys and mules cared for no matter what they do or where they are in the world. They deserve good treatment and it's amazing what Brooke does to educate people and help them look after their working animals. It's a privilege to be an ambassador and support Brooke's work in any small way that I can.