Brooke working to stop misconceptions
Working in the field, we sometimes come across mistaken beliefs which are adversely affecting animal welfare.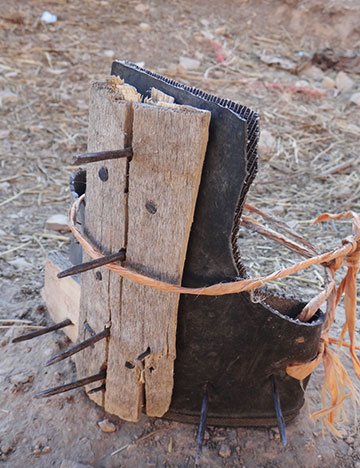 When Brooke and partner in Afghanistan, the DCA Livestock Programs, started a programme in the village of Dalkhaki they found some of the foals wearing this device. Fitted across the foal's nose, it consists of rough piece of wood containing several large nails which protrude outwards, and it prevents them suckling their mother's milk. There's a mistaken belief in some communities that the mother becomes weak if the foal feeds a lot.
Abdul Jabar lives in Dalkhaki with his wife and six children. He has one donkey named Neel, and her young foal. Neel has many jobs - land preparation, harvesting, taking the produce to market; she also fetches water, carries bushes from the mountains for fuel, takes the children to school and helps with many household chores.
Abdul was allowing the foal to take her mother's milk just once a day. He said, "I am poor; if the foal sucks her mother's milk, she then becomes weak, she cannot work properly and cannot make enough money for me and my family."
When Brooke/DCA vet Dr Hayatullah Hayat first examined Neel and her foal, both animals were weak and had external parasites which he treated with vitamins and a drench. But just as importantly, he provided Abdul with knowledge and understanding of his animal's needs and the ways in which they were suffering. Abdul went on to play a key role in introducing the programme to the village elders and the other equine owners in his community, and use of this harmful device has now stopped in this area.
Although this particular practice is rare, it's one of many misconceptions Brooke is working to stop. When people grow up and live in small, isolated communities with limited access to education, these beliefs can have a strong influence on behaviour.
Help us reach even more equine owners and communities