"If there was no Brooke I would have no animals"
Babou, from the Qalandar community in India, describes how a Brooke-trained Animal Health Practitioner helped with the welfare of his animals.
Background
Babou is a member of the Qalandar community in India and lives in a small hut with his wife and eight children. His four brothers and their families live nearby, and their main source of income comes from rearing and selling mule foals to local traders and equine fairs. Babou owns one donkey stallion, 22 mares and eight foals.
Animals Fell Ill
Before Brooke and the local Brooke-trained Animal Health Practitioner (AHP) were working in the community, Babou's mares would often get sick and miscarry, or even die.
"When my animals got sick I medicated them myself", Babou says.
I filled up the syringe and injected the horse. We had just one syringe for all of them.
Babou explained how he would use the same dosage and medicines for all illnesses.
"We didn't know the correct dosage, so we would often overdose or underdose and the animal would die because we had no one to call. If my horse only required a 3 ml dosage and I gave it 7 ml, the next morning I would find it dead. There was no AHP and there was no Brooke."
What Is Surra Disease?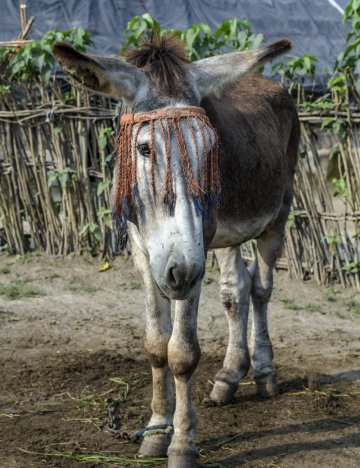 Babou also used to treat all of the cases of illness with medicine for surra. Surra is a contagious blood disease affecting equines in the Middle East and Asia. Transmitted by horseflies, it typically causes fever, weakness and fatigue which can lead to weight loss, anaemia and even neurological signs, where the animal displays unusual behaviour. If left untreated, surra can be fatal in some animals.
"We thought that was the only disease", said Babou. "Even if it was just a mild fever, we assumed it was surra."
The high death rate among Babou's animals caused him to struggle financially, as he would have to pay a large amount of money to replace them.
 "When one of my animals died, I would have to find the means to buy another one. I have to rely on money lenders who charge very high interest rates."
How Brooke Has Helped
Since Babou began attending Brooke's community engagement sessions, he has been taught to identify early symptoms of different diseases and which medicines to treat them with.
Brooke explained to Babou and his community that medical overdose was extremely harmful and could also result in drug resistance.
"Before Brooke, when my pregnant mares got sick, two out of three would have miscarried but now it's less than one in three. We're very thankful."
Now Babou has the support of a good network of experts. Both Brooke and Gulfam Ali, the local Brooke-trained AHP, are available for him to call for advice, and provide access to medicine and treatment. Babou says he calls the AHP two to three times a month for support.
If my animals become sick I now feel confident to treat them or guide another of my family members to do it. And I can get in touch with the AHP or the Brooke team to help cure my animals.
Babou can also buy medicines from local stores. Brooke and the AHP have worked hard to ensure the stores stock the correct equine medicine that Babou and his community need, and that it's within the expiration date.
The mares now produce seven to eight foals annually. On Brooke's visit to India in 2018, Babou sold a four-month-old mule for 45,000 rupees (£470) to a trader, who is taking the foal to an equine fair 300 km away in Lucknow.
"If there was no Brooke I would have no animals. Because of Brooke we're able to give the correct medicine at the right time to save the lives of our animals."