Gulfam's journey as an Animal Health Practitioner
Gulfam is a Brooke-trained community animal health worker treating working horses, donkeys and mules, and other livestock.
Gulfam is the Animal Health Practitioner (AHP) in the Qalandar community, a nomadic group from Northern India that commit to living in small community groups with little access to modern resources. They rear mules by breeding horse mares with a donkey stallion, then earn a living by selling them on to individual owners, often at equine fairs. Brooke identified Gulfam as a good candidate for an AHP, as he was already working within the community treating livestock and was well-known and respected in the area.
Welfare Training
In 2012, Gulfam received training from Brooke on good welfare practises and diseases such as colic, surra and diarrhoea so he could start treating equines.
Before I started training with Brooke I was afraid of horses, I thought they would bite or kick me. I was very nervous when I started working with them but now I enjoy it. I always give them a hug.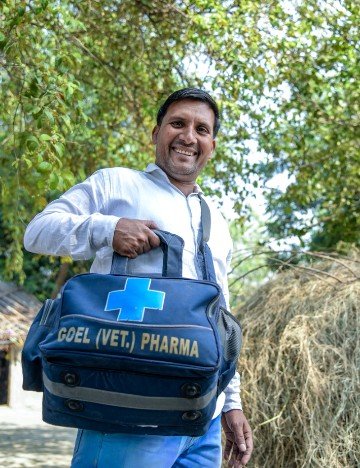 One of the most important changes Gulfam says he has witnessed is the use of fresh needles. 
"Before they used to use the same needle on every equine for years but after the Brooke training we use one needle for one equine."
Brooke also showed Gulfam how to calculate the amount of medicine needed depending on the bodyweight of the animal. Without this knowledge previously it resulted in untreated animals or unintended overdoses.  "Now I am able to save the lives of around 80% of the animals I treat."  
Gulfam has also noticed that since Brooke has been working with the community to educate them on how to detect early signs of diseases like surra they are able to call him sooner, giving the equine a better chance of survival. "They used to call me in the last stages of surra, when the animal was showing more obvious signs of illness like not being able to stand or eat. But now they are calling me at the early stages and I am able to save the animal."
Sharing the knowledge
Gulfam tries to pass on his knowledge of symptoms to owners so that if he is not nearby and cannot come in person they can describe their equine's problem over the phone to him so he can guide them on what to do. He will write prescriptions for the owners so they can go to a nearby medical store and buy the correct treatments:
"I have made links with local stores to make sure they are stocking the correct equine medicines."
Since Brooke has stopped providing free treatment to the local communities Gulfam has noticed the number of calls he receives has doubled to around six per day and his income has increased to 1200 rupees (£12.50) a day. He charges owners 150 rupees for call outs and to treat cases like surra he charges 450 rupees, including medicine. This means he's able to earn more, have better equipment and provide better support for his family.