Training in Pakistan gives horses a life worth living
How training and sharing knowledge in Pakistan improves the lives of horses.
We focus on the Domains Of Welfare. These are a set of principles that Brooke uses to help define an animal's wellbeing. They cover nutrition, environment, health and behaviour. If these are all met with good examples, it leads to a positive mental state – and a happy horse, donkey or mule with a life worth living.
In Pakistan's Hamza Brick Kiln, community engagement sessions are run by Brooke Community Change Agents. These are local owners that are particularly passionate about animal welfare and have been trained to spread Brooke's message to the other owners in the brick kiln. The use of Community Change Agents, such as Muhammad Arshad, has proved an innovative way to create change organically and effectively. Muhammad said: "Since attending Brooke's Community Engagement meetings, I now think my animal's life is just as important as mine. Brooke taught me that there is so much I can do with my own hands to make a positive change to my animal's life, such as grooming, feeding and foot cleaning."
Since attending Brooke's Community Engagement meetings, I now think my animal's life is just as important as mine.
Brooke Pakistan's Mobile Vet Team, led by Dr Ali Zain, visits Hamza Brick Kiln once a week to run community engagement sessions, and a veterinary clinic to treat injured equines. These sessions improve owners' knowledge of the Domains of Welfare and help them prevent injuries and improve their animals' daily lives. Dr Ali said: "Prevention is better than cure and it's our responsibility [to train people]."
Nutrition
Dr Ali has showed them the importance of good nutrition and the positive effects it has on an animal's health. Saleem, a member of the group, said: "We used to give tobacco and molasses to our animal if it showed signs of colic, now I know to prevent colic the animal should have a proper balanced diet and be frequently offered water."
As well as showing owners affordable ways to provide nutritious feed, the Brooke team encouraged the owners to persuade the brick kiln owner to donate a water trough, which was installed on site and is maintained by the workers. Now, horses and donkeys stop off for a drink on their way to collect a new load of bricks.
Health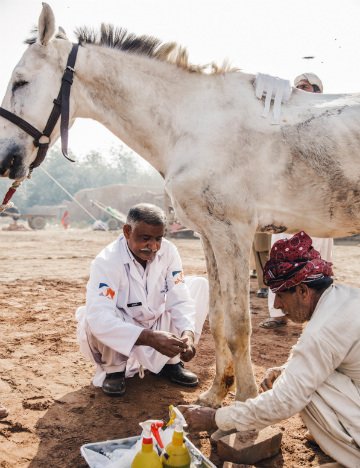 Dr Ali has also shown the group how proper nutrition can prevent diseases and treat wounds. Saleem spoke of the improvements to his horse's health since he has started attending the sessions: "Since Brooke has intervened, we have learnt a lot."
Another owner, Shoukat, told of how he used to treat his horse Bhadur's harness wounds with brake oil before he started attending the community engagement sessions, "I will continue to wash and dress the wound, as well as resting Bhadur for the next two days. Once he goes back to work, I will pad the harness."
Environment
The sessions promote the need for working animals to be given a suitable environment to live and work in, to protect them from overheating and exhaustion.
"We didn't know anything about heat stress but now I know if it's hot and my animal falls down he needs a bath and some shade," said Saleem.
As well as having an impact on the practices the owners use, the sessions have helped change general attitudes towards horses.
Behaviour
During one session, Dr Ali examined a brick kiln horse named Pappu whose owner had become concerned after he stopped eating.
Dr Ali recognised that Pappu was showing signs of nervousness. After initially considering using a sedative to calm the horse, Dr Ali recommended the owner use blinkers to calm him down. After having blinkers fitted and with some patient time with Pappu, he was a lot more calm and happy, and allowed Dr Ali to fully examine him. Pappu was quickly prescribed a change in diet, including more green fodder.
Mental
Brooke teams have reported that working equines in the area are now less stressed and show improved behaviour, as the Five Domains are being put into practise. Owners have been shown how interpret their animal's behaviour to help them recognise when it is in pain or stressed.
All of these improvements in nutrition, wound management and overall health have allowed the working horses and donkeys of Hamza Brick Kiln to become happier in their working lives and exhibit more normal behaviour.
If every person can convey this message to 10 more owners, we can spread Brooke's message quickly… I want to spread that message as far as I can.