How glanders impacts on brick kiln communities
Glanders, a highly infectious and often fatal disease, is reportedly becoming the biggest health threat to equines working in brick kilns in India.
For many people, equines play a critical role in their livelihoods, and on average one equine can support five or six family members. In Uttar Pradesh, where up to 70% of the equine population works in brick kilns for six months of the year, Brooke undertook research to understand the economic impact glanders has on the livelihoods of brick kiln workers.
What our research involved
Brooke India staff visited nine brick kilns in Western Uttar Pradesh.
They found 15 equines (11 horses and four mules) with physical symptoms of glanders. These cases were notified to the Animal Husbandry Department of the Government of Uttar Pradesh who confirmed the presence of the disease in the animals; sadly, all 15 had to be euthanised.
We then spoke to the owners to understand the financial impact of losing their animals to glanders. 
What we discovered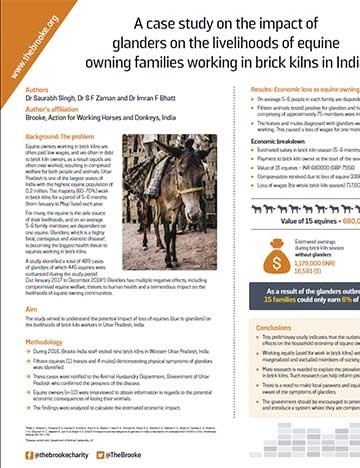 All 15 families were forced to find other, less reliable, ways of earning a living.
It's estimated that during the brick kiln season, 15 families can earn up to $16,581 in total. Based on interviews with owners, estimated earnings after a glanders outbreak can drop to $1,074, meaning that families can only make 6% of their potential earnings.
Equine owners affected by glanders reported having to make compromises around the health and welfare of their families, including the education of their children.   
In March 2019, this work was presented at the 7th Pan Commonwealth Veterinary Conference, where acclaimed veterinarians and academics came together from all Commonwealth and non-Commonwealth counties to share and learn.
For more information, download the poster presented at the conference.