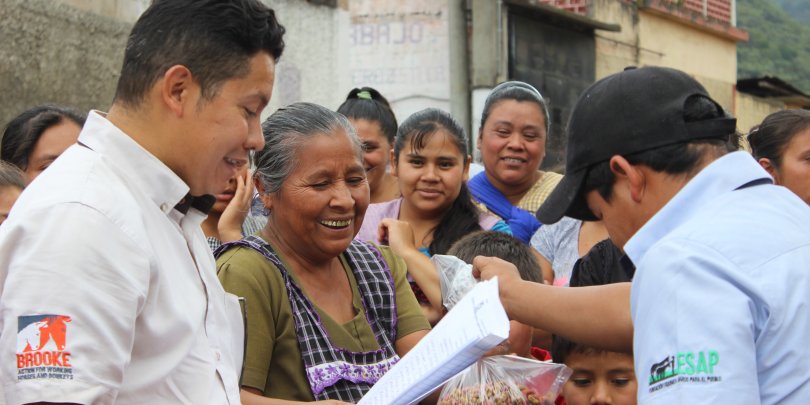 Guatemala at a glance
Population: 16.9 million
Percentage of population living below the international poverty line: 8.7%
Number of working equines: 228,000
Sources: World Bank 2017 and World Bank 2014
Background
Guatemala is one of Latin America's most populated countries and has one of the highest levels of inequality in the region. Much of the estimated 228,000 working equine population is used for transporting agricultural products such as corn, beans and wood and for carrying water from wells to homes. These equines are affected by a range of welfare issues from poor body condition and tick infestation to lameness and spinal pain.
Working horses, donkeys and mules  have enormous value for people's livelihoods in Guatemala, and they should be recognised for that. 
how Brooke is working in guatemala
Since 2006, we have worked through our partner ESAP (loosely translated to Healthy Equines for the People) who are a Guatemalan foundation which promotes the welfare of working equines.
ESAP is currently:
Enhancing equine owners', users' and handlers' knowledge to improve their welfare practices. For example, encouraging good handling, basic husbandry and first aid.
Helping communities acknowledge equines are an essential part of the community and that their welfare matters.
Engaging policy makers and influencers to consider equine welfare in their agendas so that improvements to the existing national animal welfare law are put into practice.
ESAP in Jalapa
Brooke is supporting ESAP with their continuing work with communities in Jalapa until 2019.
Working equines in this area are subject to:
Malnutrition and dehydration
Lameness
Poor hoof condition and injections
High tick infestation
Wounds
Respiratory problems;
Heat stress and abandonment.
ESAP is working with 400 equine owners to ensure they have the appropriate knowledge and skills to carry out practices such as good handling, hoof cleaning, grooming, equipment maintenance, preventive deworming and tick treatment.
Animal welfare groups are being established within the community, supporting the organisation of welfare clinics and delivering hands-on projects and capacity building activities.
ESAP is running a rational handling project which has been funded as part of Brooke's Global Humane Handling Project. The project is ambitious and novel, working in 19 communities in Jalapa to deliver personalised training based on individual needs to selected community members who are experiencing difficulties with handling.
The relationships between the humans and the animals will be improved, not just for work, but overall. We help create an emotional bond between the family and the animal, emphasizing that the animal shouldn't be seen just as a tool but as part of the family.
Through funding this project, Brooke hopes to learn from the significant expertise of ESAP in handling and training equids.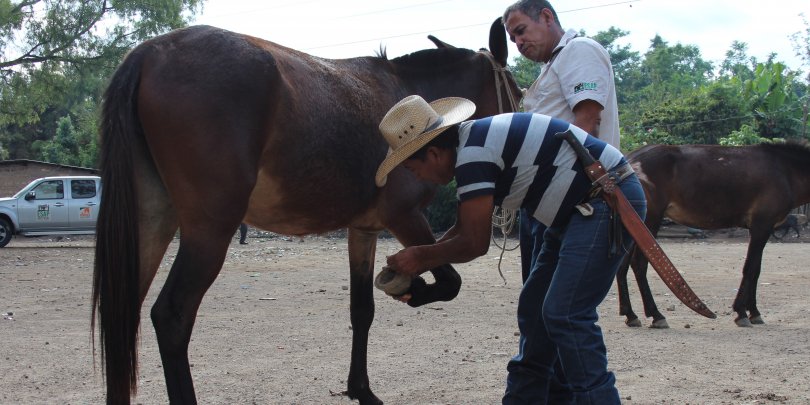 Working with local partners
ESAP in turn works in partnership with other organisations; ensuring that working equines are considered in their programmes and projects.
ESAP is currently working with the World Food Programme, supporting communities to sow drought-resistant seeds. In the past they have worked with Save the Children to write and share children's stories which promote compassion, respect and responsibility towards working equines.
Advocacy work
ESAP carries out a range of advocacy work locally and nationally. For example, lobbying for the implementation of the World Organisation for Animal Health's (OIE) welfare standards for working equines in country and supporting the creation of a national animal welfare law.
ESAP has developed a manual to communicate the content of the animal welfare law which they are working to have incorporated into the national curriculum for children.
Enhanced through their collaborative emergency work following the Fuego volcano, ESAP has developed strong ties with the Ministry of Agriculture, Livestock and Food in Guatemala (MAGA). In August a workshop on protocols and operative guidelines to manage animals in disasters was conducted with the support of World Animal Protection. Attendees included people from MAGA, CONRAD (the National Coordinator for Disaster Reduction) and the Professional College of Veterinarians. This work provided an opportunity to continue ESAP's advocacy initiative of having equines recognised within official emergency guidelines.
Help us reach more horses, donkeys and mules working in harsh conditions all over world.
See also