World Youth Skills Day - The need for more farriers
Alex Ridgeway, our farriery project coordinator, explains why a career in farriery can not only improve the lives of millions of horses, donkeys and mules, but can also be a secure and prosperous one for young people. 
Today is World Youth Skills Day. According to the International Labour Organisation, around 64 million young people worldwide, most from the Global South, are unemployed. In the Global South there has been a push in recent years for more investment in primary education. This is very important, but there has been a lot less investment in secondary and vocational training that is most likely to result in employment opportunities. There is a gap between what the job market needs and what skills young people have. 
What if I was to tell you that working with horse's hooves was a brilliant way to get young people into work? 
You might have seen an old horse shoe lying around and know what it is, but unless you own a horse you might not realise that good farriery, the art of balancing hooves and shoeing for horses, donkeys and mules, can be the difference between a horse walking comfortably, and chronic pain. Certainly a niche skill now in the U.K or U.S, one that outside of the equestrian world many would never know even existed. But it would have been common knowledge just 100 years ago. In low to middle income countries, working horses, donkeys and mules are still very much the powerhouses of industry and community life, but there are not enough qualified farriers.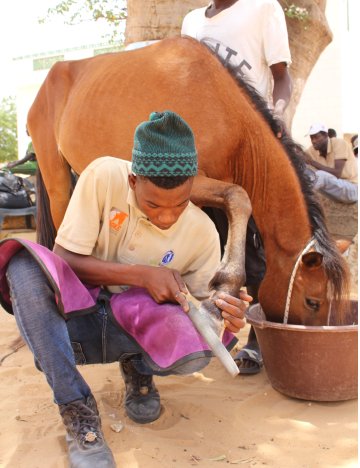 Let's take Ethiopia for example. This is a country that relies so heavily on working horses, donkey and mules, approx. 8 million of them, for carrying water and food, as well as being essential for agriculture. You would think farriery would be a lucrative and desirable skill. Yet, hardly anyone aspires to being a farrier and in most countries it is not a properly regulated profession. Education is inherited by family elders steeped in traditional methods and beliefs. This often results in harmful practices being perpetuated. Farriery should and could have a profound and positive effect on young people in developing countries, improving animal welfare and ultimately improving community livelihoods. 
Why is this not the case? It's certainly not an easy win to simply address this situation in hope of immediately achieving lasting change, but change is possible. Take West Africa and Senegal - Dr Maimouna Ndiaye who has worked tirelessly to establish what Brooke believes is the first farriery training centre outside of Europe that is supported by local government with official farriery accreditation. 
In a conversation we had at a recent farriery training workshop, we discussed the significance of farriery not only in the potential to improve animal welfare but also as a good worth having Dr Maimouna went on to say that "Farriery is an exciting job needing good physical skills and stamina. It is also a liberal profession meaning those that become farriers also become business owners, and these businesses don't require a huge investment to start up. For all these reasons, farriery is a good job for young people in search of financial autonomy and better life conditions.  Capacity building of traditional farriers and increasing the demand for farriery services are key activities for Brooke West Africa. As professionalisation is essential to make farriery a recognised job, we have worked on designing a training curriculum and establishing an accredited training center of farriery."
There are similarities here in the UK with Farriery transcending its own path towards professionalism with the worldly renowned Associate and Fellowships Awards from the Worshipful Company of Farriers, the introduction of the Bachelor's Degree in farriery science and the graduate diploma from both Myerscough University centre and the Royal Veterinary College. Farriery is and continues to be a very desirable career path for many young adults. 
Brooke recently set up a working relationship with the Worshipful Company of Farriers, who have a wonderful history of supporting farriery since as far back as 1300s. Having gone through a very similar journey here in the UK over that time we believe their support will go a very long way in helping to achieve this goal across the globe and with their experience and expertise on board we are certainly hopeful that brilliant success of Dr Maimouna and the West Africa team can be replicated many times over.
As Senegal has demonstrated, we can achieve equivalent levels of integrity for the profession across low and middle income countries as well, where arguably farriery is even more crucial to economic success as well as a benefit to animals. We must be mindful of the differing context across the globe, including the practical uses of animals, the difference in breed type, environment and the social-economic challenges faced by those in many countries, but ultimately the  fundamentals of the technical aspects, business, working with owners and providing that service remain the same. To many young people, farriery should and could be an excellent opportunity to provide sufficient and sustainable income to them and their families, support local communities and even support local animal health care systems. This would all help towards improving the welfare of those animals that so many people are incredibly dependent on. 
It goes further. Training a few individuals is one thing, but Brooke doesn't want communities to have dependence on us for upskilling and education – we want to establish an entire farriery system, one that addresses the demand for the service, advocates for recognition and respect through accreditation and provides supporting networks to those involved. These networks are key, because then one accredited farrier can not only train others, but also mentor them, creating a network of young people whose skills have impact far beyond their own communities. All of this will make the profession not just desirable, but enviable. 
Farriery should be recognised as often the greatest step towards making positive change for the welfare of horses, donkeys and mules, and respected as a desirable career opportunity for young people.