World Vet Day: almost a quarter of pet owners go overdue on vaccinations
A survey has found that almost a quarter of pet owners in the UK have gone overdue on their animals' regular vaccinations.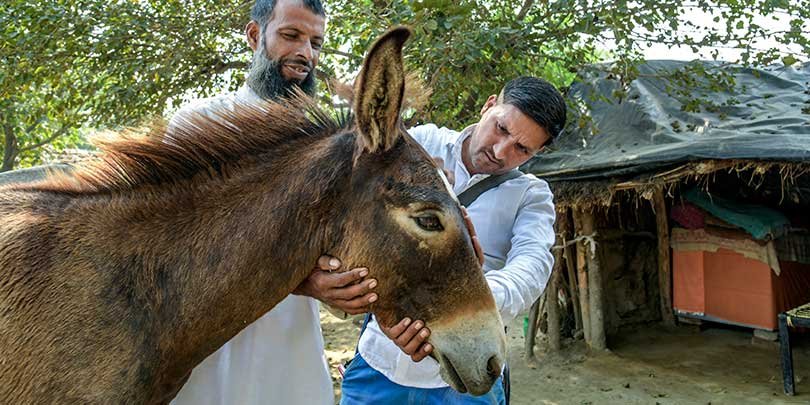 A survey carried out for Brooke by nfpSynergy to mark World Vet Day on 27 April 2019 has found that almost a quarter (23%) of pet owners in the UK have gone overdue on regular vaccinations for their animals, despite the fact that 86% said they can get an appointment to see their vet within five days.
The theme of World Vet Day this year is vaccination, and 88% of the general public believe that vaccinations are important for animals' health. However, even though two-thirds of pet owners (67%) vaccinate regularly, 23% admit to going overdue and 9% have never vaccinated their pets.
Brooke specialises in the welfare of working horses, donkeys and mules in developing countries. Less than a tenth of the UK public (9%) rely on their animals to earn a living, but across the world, 100 million working horses, donkeys and mules work day in, day out, helping around 600 million people earn a living, transport food and water, and get their children to school. 
Vets in the UK have to comply with the code of conduct to provide emergency treatment day or night, and 82% of pet owners feel they have access to a vet when they need one, but animal owners in many developing countries often have little or no access to qualified vets, painkillers or vaccinations. This means that when animals are injured or get sick because of the difficult conditions they work in, their owners struggle to cope. For example, there is currently a disease outbreak affecting donkeys across nine West African countries. In Niger alone the death toll so far is 62,000 donkeys. Brooke's teams are in the field trying to identify the cause, which is thought to be Equine Influenza. 
To tackle problems like these, Brooke trains local vets and animal healthcare providers, as well as showing owners how they can prevent injuries, infections and disease themselves. Where Brooke has trained animal health practitioners in Ethiopia, for example, 91% of owners have started using the services. 
Brooke's Senior Manager for Global Animal Health, Klara Saville said:
"In the communities we work in, poverty and accessibility of health services is often the root cause of animal welfare issues, with people sometimes having to choose between food for their families and treatment for their animals. 
"Brooke concentrates on building up infrastructure, and training owners in simple actions people can take to prevent bad welfare. A big focus for us at the moment is veterinary education and mentoring. We mentor animal health practitioners and work with veterinary training institutions to create long term sustainable impact."