Who's running the London Marathon for Brooke this year?
Three runners share why they're running the London Marathon for Brooke on Sunday 23 April.
Running enthusiast Sylv Hull, from Bingham in Nottinghamshire, is taking on this year's London Marathon in aid of Brooke, a cause close to her heart.
Sylv, a member of Grantham Running Club and lifelong lover of horses, has already raised over £1,600 to support Brooke.
After losing her own horse in 2018, Sylv wanted to tie running with her passion for animal welfare. Sylv said: "Like most runners, the London Marathon is something special to tick off the bucket list but the knowledge that I'm running for such a worthy cause adds a profound dimension to my training. All the early starts and rainy long runs are for something meaningful and the fact that friends and family have sponsored me spurs me on."
"Not only does (Brooke) provide direct help to working donkeys, horses and mules to alleviate their suffering, their work reaches beyond this through education and lobbying to ensure the ongoing improvement of these animal's welfare."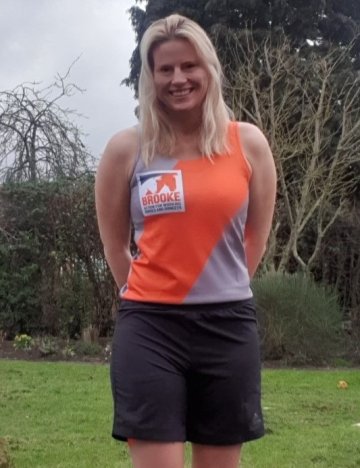 Training for a marathon is never an easy task, and when Sylv got her Brooke vest through the post "…it really started to sink in…I feel very lucky and proud that I have this opportunity, even if the nerves have started to kick in! Running 26.2 miles is nothing compared with what these animals go through every day and I will be thinking of them when I want to have a sit down at mile 18!"
Sylv has a wealth of running experience, having competed in the Manchester 2021 and 2022 marathons, and numerous half marathon and parkrun races.
You can sponsor Sylv here.
Also representing Brooke is Rebecca Walker from Hanham in Bristol, who will take on her sixth London Marathon this April. Rebecca has already raised over £2,000 to support Brooke, having also fundraised for the charity in last year's London Marathon.
"I am running for Brooke again because having grown up with horses my whole life, I want to help these beautiful working animals along with donkeys and mules around the world. I love raising money knowing it will change their lives for the better."
Rebecca believes that "anything is possible in life if you want it badly enough and this is the mentality I have used in all of my marathons.Rebecca has represented the RAF in distance running and competed in the 2022 Sri Lanka Ultra X 250km race, where she was awarded fifth place and qualified for the Ultra X World Championships in Slovenia. Rebecca has also competed in the Edinburgh Marathon and other local marathon races.
You can sponsor Rebecca here.
Brooke's Legacy Team and Events Coordinator Joey Jeetun has also decided to take on the London Marathon challenge this year. Joey has worked at Brooke for the last 13 years and has organised the charity's involvement in the Marathon for some time. He will fulfil his childhood dream of participating in the Marathon, having watched the runners go past his family home each year. He has already smashed his fundraising target, raising £1,100 and counting for Brooke.
Joey said: "I am running for Brooke as I have been passionate about supporting the working horses, donkeys and mules. They work every day in harsh conditions and do vital work in their communities. I have worked for Brooke for 13 years, so I'm very much committed to the cause."
"I have been training for the London Marathon for under three months, so a lot shorter than the recommended time. I have been running in the cold and rain four times a week, which is nothing compared to what the donkeys have to go through on a daily basis. This includes one long run a week to get the miles in. I have ended up running everywhere from work to gigs."
You can sponsor Joey here.
Sylv, Rebecca and Joey will be joined by six other supporters running for Brooke in this year's London Marathon. Money raised will help Brooke further its mission to give working horses, donkeys and mules a life worth living.