"Vet practice is more of a calling than a business" - Day in the life of a vet in Kenya
Dr Josphat Matara is a vet based in Meru, Kenya, who has worked with Brooke and our partner KENDAT to deliver quality vet treatment to working equines. He also works to mentor the next generation of vet professionals.
I start my day by taking breakfast, dropping my children in school, then going to my office where I meet my students and veterinary interns to plan our day. Sometimes my program can be disrupted if I get some emergency cases in the morning.
I have a team of 12 vets and paravets whom I usually mentor on a day to day basis. Currently I am training them on clinical case management, safe animal handling and animal welfare principles.
On average, I treat 3-6 animals a day. You can't really tell the distance you're likely to travel in a day, it depends on where you get the clinical cases, but on average, it's 100-200 kilometres per day, depending on how busy the day is.
I work in a range of environments, including both high rain fed, arid and semi-arid areas. As a freelance veterinarian I don't discriminate. It depends on the calls of the day.
The best way to prevent animal suffering is to educate farmers and owners, as well as routine management practices, early reporting and treatment of diseases, proper shelter and access to quality feeds and clean water. The general public should be educated about animal freedoms, which is key to preventing animal suffering.
Mastitis is the most common and challenging condition I encounter, owing to the nature of its multiple causative agents. This is an infectious disease primarily seen in cows, resulting in an inflammatory reaction in the mammary gland. My practice cuts across small and large animals but most of my time I handle dairy animals.
A memorable experience was the day I was called by one of my friends at about 4am, informing me that he had a dystocia case (a prolonged or difficult labour in cattle) he wanted me to assist him in managing. On arrival I found the animal was down with milk fever, which looked critical. First things first, we had to manage this then proceeded with the management of the labour through surgery, both the calf and the dam survived.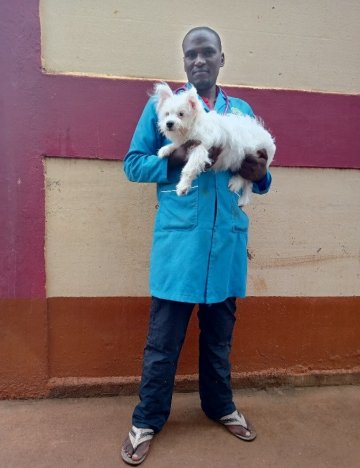 After spending the whole day in the field I go back home. I take a warm shower, assist my children to their homework, take homemade supper as I watch the news, and finally go to sleep at about 10pm.
I've learned that veterinary practice is more of a calling than business, many times you're called to attend to a case and the owner is unable to pay for the services. You're forced to make a decision whether to treat or not. Being an animal welfare advocate, I usually manage the cases without pay.
Being a vet can be stressful, in these situations I take a short break, drink some water, take a deep breath, then take some time to understand the situation and think about it. This helps me conclude the source of the problem and come up with a solution.
My work would be easier if I had a car. This would enable me to travel some long distances to attend to needy animals. My motorbike sometimes limits what equipment I am able to carry to the field for my work. During the rainy season you can't serve farmers adequately due to poor road networks and the motorbike also limits the number of students who can accompany me for mentorship during field case management.
Relieving animals of pain and suffering makes me feel happy, touching lives and enhancing livelihoods. Thank you to Brooke for your good work in partnership with KENDAT. Due to this generous support and contributions, the welfare of donkeys, horses and mules is well taken care of.