Hannah Russell and Little Alf are headed to Bolesworth!
Successful North Yorkshire author Hannah Russell and her miniature Shetland pony, internet sensation Little Alf, are heading to Equerry Bolesworth International Horse Show to help Brooke raise awareness of the charity's work with vulnerable horses, donkeys and mules overseas.
On 15 June Hannah and Alf will be attending Bolesworth's Schools Day on behalf of equine charity Brooke – Action for Working Horses and Donkeys. Hannah will hold readings of her 'Little Alf' books throughout the day for the school children and, alongside Brooke staff, will be available to answer any questions about the charity's campaign, How The Other Horse Lives.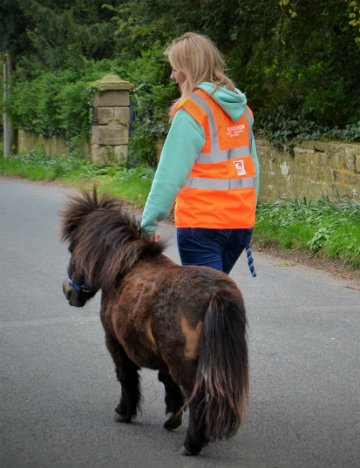 Sadly, unlike the horses competing at Bolesworth, working horses, donkeys and mules in developing countries often suffer in their day to day working lives because their owners don't have access to the skills or resources to properly look after them.
Little Alf, whose YouTube videos receive thousands of views, will also be on hand for meet and greets with the young guests. Standing at just 28 inches tall, Alf came to live with Hannah when he was 7 months old after his previous owner realised Alf had dwarfism and so could not be used for breeding. Now, three years later, the pair wouldn't be without each other and Little Alf has inspired four of Hannah's books, the first of which she wrote aged just 17.
Hannah said: "Me and Little Alf are so excited to be joining Brooke at Bolesworth's Schools Day, I can't wait to meet all the children and I know Alf is looking forward to all the attention he's going to get! I believe it's really important to get children interested in reading from a young age and I hope I'll be able to inspire some of our young guests to pick up a pen and start writing stories too.
I'm extremely proud to be supporting Brooke, the vital work they carry out overseas to improve the lives of millions of working equines is fantastic and it will be great to help spread their message at Bolesworth.
Bolesworth runs from 14 – 18 June and if you'd like to come along for a fun filled family day out you can save on your trip with Brooke. This year marks the show's 10th anniversary so to celebrate this landmark milestone and Brooke being named this year's charity partner they are offering a huge 25% off all tickets from 1 June. Just use the code 'Brooke25' when purchasing Bolesworth tickets from Ticketmaster.
Hannah and Alf are firm supporters of Brooke and their work improving the lives of working equines in developing countries. They have recently signed up for Brooke's #MyHackathon fundraising campaign which challenges horse owners to ride 100 miles in 100 days to raise £100 for Brooke. Little Alf will be taking part in a reduced version of the campaign for smaller ponies, named #MyMiniHackathon where supporters are asked to ride or walk just 10 miles in 100 days to raise £100.