Brooke hosts virtual event examining the links between women, water and working animals
On Thursday 23 March, Brooke and the International Coalition for Working Equids (ICWE) hosted a virtual side event as part of the UN 2023 Water Conference, discussing the crucial role of women and working equids in water projects around the world.
ICWE is comprised of leading working animal NGOs Brooke, The Donkey Sanctuary, SPANA and World Horse Welfare. It was established to work with the World Organisation for Animal Health and its members to improve the welfare of working animals globally.
Valentina Allen, Chair of ICWE and Head of External Affairs at Brooke was joined on the panel by Lorena Barrantes San Román, Regional Coordinator of World Horse Welfare, Kasum Athukorala, Regional Chair at GWP South Asia, Chair at NetWater and SC member of Women for Water Partnership , Isidore Della, National Director of Inades-Formation Burkina Faso, Johnson Lyimo, Executive Director of Meru Animal Welfare Organisation and Gebre Terefa, Community Training Officer at SPANA Ethiopia.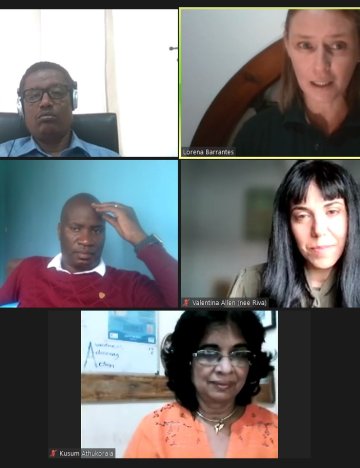 Addressing attendees, Valentina Riva said: "Women, animals and children are an investment to society. We need to invest in the infrastructure that we have and raise awareness so we can solve the water crisis."
Across Africa, Asia and Latin America water is a scarce good, and is fast becoming scarce in many other regions too. As an essential resource for both people and animals, water is vital for everyday life, including hygiene and sanitation which helps to control the spread of infection and disease including COVID-19. While technology and financing are key to solving the water crisis, low-cost, low-tech and locally-owned solutions exist and can contribute to achieving aims under the Water Action Agenda.
"Women and children can spend half a day walking to collect water. We need to target their needs when we design our programmes. Greater collaboration is needed between development and animal welfare sectors to devise holistic approaches to ensure safe access to water in areas reliant on working animals."
Isidore Della said: "Integrated action is what we need in these climate stressed times. Let's bring working animals and women together in a way which supports them both."
Panellists discussed how water provision projects around the world are implemented through intersectional partnerships and involved locally owned solutions, with an emphasis on the role of women as drivers and owners of local water solutions.  
Lorena Barrantes said: "Life without women and water wouldn't be possible; they are fundamental for millions around the world. We must centre policies around intersectional alliances for development. Working together is the only way to face these challenges and leave no one behind."