Brooke attends 90th WOAH General Session
This week, Brooke joined members of the International Coalition for Animal Welfare (ICFAW) at the 90th World Organisation for Animal Health (WOAH) General Session.
The General Session takes place once a year in Paris, where WOAH is based, bringing together government delegates and NGOs from around the world to approve and discuss new standards on animal health to reduce the risk of disease spread.
Much of the programme focused on the control of Avian Influenza. The world is currently experiencing its worst ever outbreak of the zoonotic virus, which can jump from birds to other mammals including humans. It is clear that a One Health approach is vital to tackling the spread.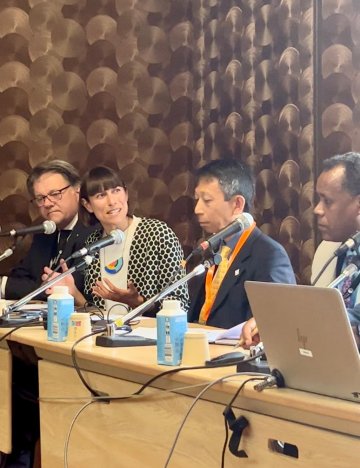 Away from the main programme, Brooke's Global Head of Animal Health, Welfare, Research and Community Development Dr Klara Saville took part in a panel discussion on the Global Burden of Animal Diseases programme, through which, with support from The Horse Trust, Brooke funds a PhD in Ethiopia. Klara was joined on the panel by WOAH delegates Dr Eduardo de Azevedo Pedrosa Cunha of Brazil, H.E Dr Regassa Gari Fikru of Ethiopia, Dr Ole-Herman Tronerud of Norway, International Meat Secretariat Secretary General Hsin Huang, and ILRI Director General Professor Appolinaire Djikeng.
ICFAW also hosted two side events during the week. The first, Animal Welfare and One Health, included speakers from ASVF, World Federation for Animals, WOAH, and the WOAH delegate from Colombia, who offered insights on how animal welfare should be integrated into One Health policies.
The second event focused on implementing and shaping WOAH's fish welfare standards and featured speakers from Eurogroup for Animals, Denmark's Senior Veterinary Officer, and FAI Farms.