3 year old Eden and his pony Lego take on MyHackathon
Three-year-old Eden Lagden-Melbourne from Sandown, Isle of Wight has taken on a challenge to ride 100 miles, in 100 days, already raising over £650 for Brooke.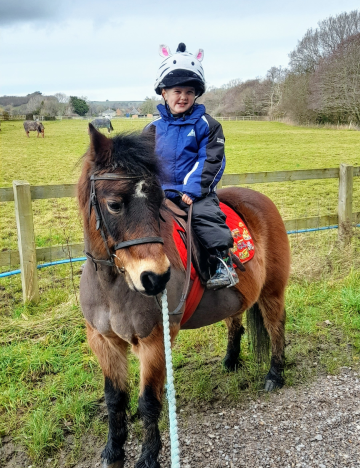 Eden's mum, Kelly Lagden, said: "He loves riding, especially trotting and doing little jumps. He likes to race me whilst I'm running and he's on Lego. He loves to cuddle and kiss the horses and help to feed them. He loves his pony and Lego is very patient with him and really looks after him when he's riding."
Eden's challenge is part of Brooke's MyHackathon, which has been running since 2017. Money raised goes towards helping working horses, donkeys and mules across Africa, Asia, the Middle East and Latin America.
Eden, who first started riding in August last year, began his challenge on 21 January. Kelly said: "There isn't a lot to in lockdown so it gives us some motivation to get out of the house and do our daily exercise whilst also raising money for a great cause."
She added: "I have supported Brooke for many years. I grew up with horses so have always loved horses. I went to Mijas in Spain when I was 13 and I couldn't stand the way the donkeys were treated at the time. When I heard about Brooke a few years later and how they help donkeys like these I started supporting them. Eden loves horses too so it makes sense that his challenge should help these beautiful creatures too."
To sponsor Eden and Lego, head to his JustGiving page. 
To find out more about how you can take part in MyHackathon, click here.