May fundraiser of the month - Tessa's Cornwall donkeython
Falmouth local Tessa Farthing, joined by Rowan, Geraldine, Becky and Daisy and their four donkeys Joseph, Jacob, M'Ansum and Dreckly, took on a five day Donkeython from 24 to 28 April, trekking from Falmouth to St Michael's Mount.
Together, the group raised a total of £1000 to help Brooke improve the lives of working horses, donkeys and mules around the world. Tessa said: "We crossed over from the tiny town of Marazion along the 12th century causeway to our final spot. Each donkey had a handler and many friends and family had arrived to support our final goal." Here, they were called by BBC Radio Cornwall and had a live interview about their amazing feat. Tessa said: "Many local people came to see us as a result of the radio interview."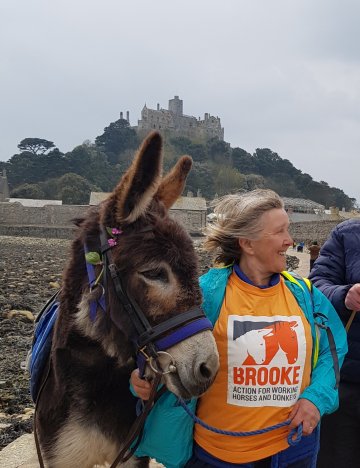 Tessa has supported Brooke since 2016 after she encountered the charity in Luxor, Egypt. She said: "I remarked to a horse taxi driver that his horse was beautiful and he explained that is all due to the work of Brooke. He said that he owed his livelihood to Brooke and was eternally grateful. On another occasion I was in a different area and my son Rowan and I were going riding. The owner had donkeys and horses and said he couldn't have done it without the regular support of Brooke. This was a charity worth supporting as it works at grassroots – enabling communities to thrive."
Brooke works across Africa, Asia, the Middle East and Latin America to make long lasting improvements to the lives of working animals and the people who depend on them. Over 100 million of these animals are currently working worldwide, earning an income that around 600 million people rely on to put food on their tables, send their children to school and build better futures for themselves and their families.