April volunteer of the month - Angela Malkin, Teesdale & Weardale, Co Durham
Angela, who lives in Weardale, has supported Brooke for many years. During lockdown, she decided to sell her vegatable plants to family and friends and has so far raised £670 to help working horses and donkeys. 
A  number of years ago, a friend loaned Angela The Lost War Horses of Cairo book, which tells the story of Dorothy Brooke's reasons for starting the charity after the first world war. Angela read the book on a holiday flight and cried at the story of two equines saved together by Mrs Brooke - and refusing to be apart. How could we not be touched by the previous suffering and boundless loyalty of these majestic animals? During that holiday, the donkeys used by the local people caught her eye constantly. Angela resolved then to do more for Brooke, with the determined purpose of providing better equine care for these hard working, sweet natured animals.
Angela explains: "Through Caroline Robertson, Brooke's Senior Regional Fundraising Officer, more opportunities to become involved with fundraising activities came my way - even dressing up as Dorothy Brooke at Beamish Museum in County Durham, in order to tell people about the work of Brooke. County shows, organising pleasure rides, managing ceilidhs have all been happy and fulfilling ways to help raise funds. Then there was the famous Brooke Winter Ball! The food, the music, the dancing, the donkeys at the entrance, the great company! So much pleasure in the fundraising!
Last years lockdown didn't provide many fundraising opportunities, however, I was invited to join a  Zoom meeting with a group of ladies in India, who, helped by Brooke workers, have improved the care and wellbeing of their existing donkeys for carrying to market the produce the ladies have grown. With the assistance of Brooke, some have been able to secure interest-free loans to purchase a donkey or mule, ultimately providing an income previously impossible. The ladies, proud and keen to show us how healthy and well-cared for are their donkeys, can now afford to send their children to school - a luxury we assume here.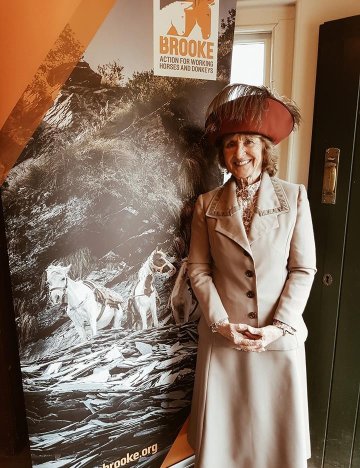 So, I was inspired! I grew my usual vegetable plants plus many more and sold them for £1 each to extremely generous family, friends and Brooke supporters. The flower plant sale is yet to come, but with this lovely bright April weather, hopefully we can increase the current total of £670.
Although not confident with social media, I shall be encouraging our Brooke Teesdale and Weardale Supporters to enjoy our Eco Friendly virtual balloon racing to support our cause. In addition, I'll have to increase my fitness too, as I shall be in the Great North Run to raise funds for this wonderful charity, so close to my heart."
Caroline Robertson, Brooke Senior Regional Fundraising Officer, said "We would like to say a massive thank you to Angela, her friends, family and Brooke supporters in Teesdale and Weardale for their incredible support and especially for the perseverance, creativity and dedication to raise vital funds for Brooke shown during the current climate. Truly inspiring, and we shall all be cheering for Angela on Great North Run race day! "
If you would like to join the Teesdale & Weardale Brooke Supporters' Eco Friendly Virtual Balloon Race that launches from Westminster Abbey on Coronation Day, 2 June 2021 you can design and buy your virtual balloons here.
Angela is part of a large network of volunteers fundraising for Brooke around the UK. Money raised from volunteers goes towards Brooke's work across Africa, Asia, the Middle East and Latin America, making lasting change to the lives of working horses, donkeys and mules and the people who depend on them.
If you're interested in volunteering or joining a group, please email [email protected]