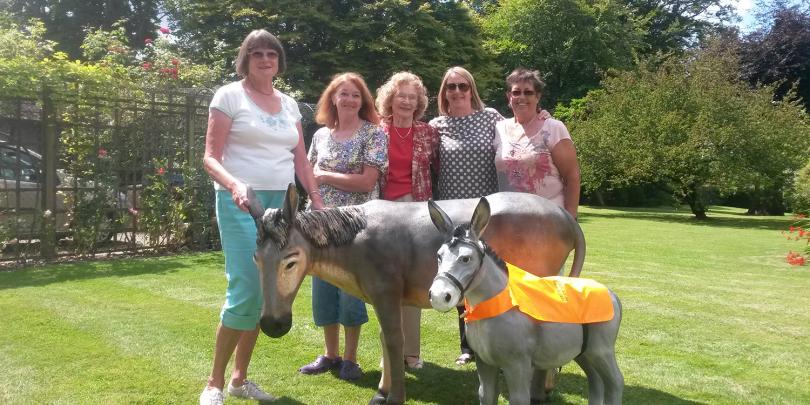 Do you love horses, donkeys and mules?
We're looking for enthusiastic animal lovers to join our fundraising groups - or set up new ones in their local area.
Being part of a fundraising group is a great way to meet like-minded people, have fun and do your bit to help the working animals who need it most.
Anyone can start a group, you don't need experience and there are no contracts. All we ask is that you're enthusiastic and passionate about our work and can volunteer some of your time.
Our fundraising groups are made up of volunteers who go out - come rain or shine - to raise awareness and funds for us.
Find out what the volunteer fundraising groups are organising near you.
Read about our volunteer fundraising groups leaders and why they support Brooke.
Contact details for our volunteer fundraising groups across the UK, in Australia and New Zealand.
Have fun fundraising
Whether it's one day a year or one day a week, you can support your local group by helping at their events and collections. It's a really sociable and flexible way to get involved in your community.
Coordinate collection tins
Find homes for our counter-top collection tins in local shops or businesses, then collect the donations and send them to us - simple! You don't even need to have a group near you to do this, as long as you're keen, committed, and happy to chat to  business owners in your local community this could be the role for you.
Are you organised?
Our group organisers do a fantastic job organising events, collections and rallying the troops. It's really rewarding to see the groups enjoying days out and seeing the difference money and awareness makes.
Good with figures?
Our treasurers tally the funds their group raises and makes sure they're banked. It's a great way to keep the brain working with some simple maths and computer skills.
Interested?
If you're interested in joining a group - or even setting one up in your local area with friends and family - get in touch with us or with one of our groups directly. 
Volunteer speakers are the voice of Brooke throughout the UK. They help raise vital awareness by giving talks about how we work to organisations, groups and schools.