12 March 2020
to
31 October 2020
MyHackathon
Ride 100 miles in 100 days and raise £100 for Brooke.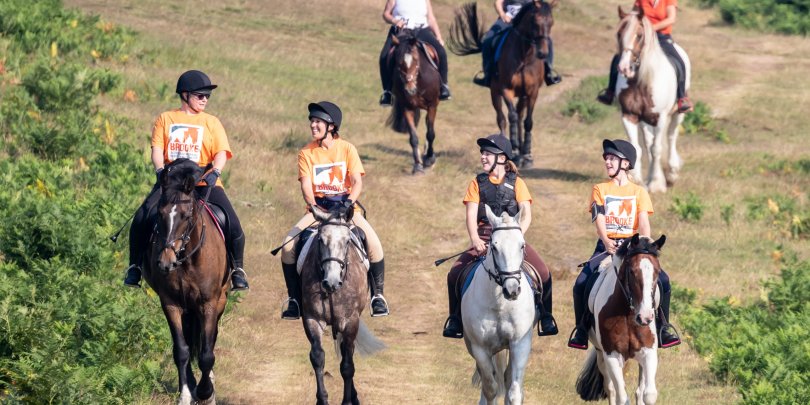 The Challenge
Ride 100 miles in 100 days and raise £100 for Brooke.
Take on 100 miles yourself or share the distance with friends (for example, 10 riders get together and ride 10 miles each).
There's no registration fee; we just ask you to raise a minimum of £100 to help vulnerable working equines all over the world.
Join the MyHackathon Facebook page to see what others are doing.
Easy steps to being part of MyHackathon
1. TELL US
Sign up to MyHackathon to let us know you are taking part.
2. CREATE A JUSTGIVING FUNDRAISING PAGE 
A really quick and easy way to get your fundraising started is to set-up a JustGiving fundraising page.  All money raised this way will come to Brooke automatically.
3. TRACK YOUR MILES
If you have a smart phone, you can download an app to help you reach your daily target. 
4. BE SOCIAL
We'd love you to join our special Facebook Group and share your progress with your fellow hackers!
How we'll support you
Our fundraising team will help you raise funds by giving lots of practical fundraising advice and providing materials to help you with your challenge. 
Want to host a TEAMHACKATHON?
You don't have to go it alone to be part of MyHackathon – perhaps you'd like to organise a fundraising hack for friends and family or even open it up to the public?  We will be on hand to give you the support and advice you need.
The Hackathon experience for me was absolutely amazing. I genuinely couldn't fault anything, it was extremely easy to take part and everyone I spoke with along the way were very helpful.

[My horse] Sandy was looking incredibly well over the summer, the best she's honestly ever looked, and I believe that is all down to the fact that I was getting out hacking for miles in addition to schooling which meant her condition was amazing.
I so enjoyed doing it, feeling that even though I was doing something I do anyway, it just had a little more meaning as the money would go to such a great cause.
Charlotte Dujardin is supporting myhackathon
Brooke's Global Ambassador said, "Hacking is really important for horses and riders – it keeps us both fit, and for me, it's nice to have some chilled out time with the horses outside of the training arena. I love hacking out into the fields and having a big open space to ride in. With Brooke's MyHackathon, you're also making a difference for working horses, donkeys and mules at the same time, all you have to do is hack 100 miles in 100 days and raise £100 for Brooke. Sign up now."
Find out which other celebrity riders have signed up for MyHackathon.