Young rider and rescue pony take on MyHackathon
Eighteen months ago, Mikayla, 37, and her 13-year-old son Tai gave a home to a special pony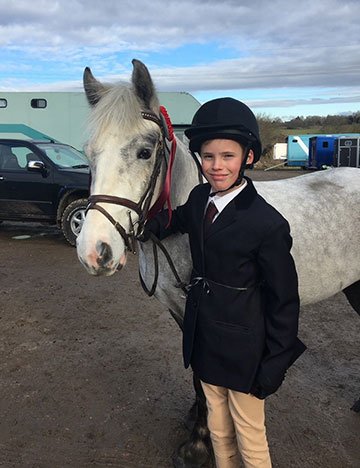 Misty was painfully thin and had been the victim of abuse when Mikayla and Tai came across her in a rescue as an unbanked, unbroken three-year-old.
Tai (pictured right, with Misty) had loved horses since the age of five and had been taking riding lessons, but the family had never owned a pony before. Mikayla said: "We fell in love with Misty and wanted to give her a loving home even if we couldn't give anything else."
After a few months of gaining Misty's trust, Mikayla did some research and decided to back her. She said: "It wasn't easy but we just braved it and she was so accepting of everything we threw at her. Within no time we were able to hack her out even in the heaviest traffic and she was so, so good!"
Misty's confidence and strength increased so much, however, that sometimes when Tai rode her she would bolt and he would fall off. Mikayla said: "Tai's confidence was being squashed and he was so scared."
Tai has never given up on Misty, despite his fears, and MyHackathon came at a perfect time for them both.
Mikayla saw Brooke's MyHackathon as a perfect opportunity to get Tai's confidence back whilst also contributing to a great cause. She said: "This was a chance for him to go back to doing what he loved and regain confidence beyond the school and yard whilst raising money for an incredible charity! Tai has never given up on Misty, despite his fears, and MyHackathon came at a perfect time for them both."