Special bond helps visually impaired rider hack for warhorses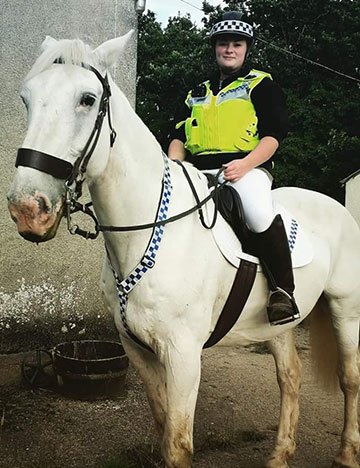 Think you have a special bond with your horse?
MyHackathon fundraiser Vicky Heil has a very special connection with her grey Irish Draught horse Murphy. Vicky has to trust Murphy completely because she's visually impaired.
Vicky, who also has Ehlers Danlos Syndrome, a rare condition which affects the body's connective tissue, has been riding since the age of three. And having ridden and walked around the same area for the last six years, Vicky's pretty confident about the routes she takes. However, like anyone, she can find herself in unknown territory.
Right: Vicky and Murphy both wear reflective clothing and bands while hacking
"If at any point I am lost, I either check my phone or let Murphy take the lead! He knows the way home very quickly. I blame him knowing dinner is waiting for him once he's back! It's all about working together, which keeps us safe, helps us to enjoy our ride and allows me to feel independence where my body tends to fail me."
It was this special connection that led Vicky to take part in Brooke's MyHackathon, a 100-day fundraising challenge that asks horse lovers to hack 100 miles and raise £100. This year's challenge coincides with Brooke's Every Horse Remembered campaign to honour the eight million horses, donkeys and mules who died in WW1.
Vicky says. "It felt like a perfect way to start off helping the equines of the modern day, whilst remembering the terrible loss that was endured.
"I have always tried my hardest to commemorate the First World War, and since I learnt that Murphy's breed was in danger of extinction after the war, it felt a little closer to home. A relative was involved in the mounted section of the army too."
"With the right horse, communication and support you can definitely ride, hack out, jump and gallop across fields."
Vicky is keen to spread the message that riding is still possible for those who are visually impaired. She says: "With the right horse, communication and support you can definitely ride, hack out, jump and gallop across fields."
Brooke relies on fundraisers like Vicky to reach as many horses, donkeys and mules around the world as possible. Whilst many equines died during WW1 from shell fire and gas attacks, many also died from the fierce conditions they had to endure. Unfortunately, these extreme conditions are still a reality for many of the 100 million working equines around the world today.