January volunteer of the month - Louise Brown, West Kent
Louise heads up Brooke's West Kent group and has helped raise over £75,000 since 2007.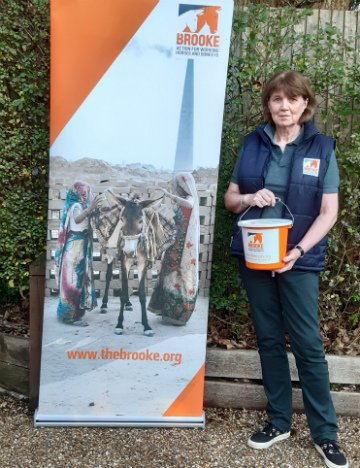 Brooke has launched its new Volunteer of the Month initiative, which will see the charity highlight a volunteer each month who has gone the extra mile and given up their time to raise awareness of working horses, donkeys and mules around the world.
Kicking things off is Louise Brown, who lives in Tunbridge Wells and has been fundraising for Brooke since 2007. Louise regularly holds collections, attends events and gives talks in her local area, with the help of her fellow West Kent group members. Together, they have raised just over £75,000.
Louise was keen to get involved with Brooke after returning to the UK from Sudan, where she lived for six years. She said: "Every day I saw horses, donkeys and mules pulling heavy and over-laden carts and carrying great big men, the thin legs of the animals barely able to support those weights. I saw these animals abandoned when they were too old or sick to be of further use to their owners. I never forgot about them."
When I came home to the UK and saw an advert in the newspaper for Brooke, I knew this was the charity that would enable me to help those animals which I hadn't been able to help before. Although Brooke does not have a presence in Sudan, they work in many similar countries.
Polly West, Brooke Senior Regional Fundraising Officer, said: "We are so grateful to have such loyal and dedicated volunteers such as Louise and the West Kent group. Not only do they raise incredible funds for working equids in need, but most importantly they help us spread vital awareness of the work we do to their local area."
Money raised by volunteers goes towards Brooke's work across Africa, Asia, the Middle East and Latin America, making long lasting improvements to the lives of working horses, donkeys and mules and those who depend on them.
The West Kent group's next collections will be in Eastbourne and Tenterden in March. If you are interested in volunteering or joining a group, please email [email protected].