Postponed: The Donkey Dash – 5k Fun Run
The UK's first donkey-themed 5k charity fun run!
Please note this event has been postponed until 2021 due to COVID-19. Keep an eye on our events calendar for next year's event.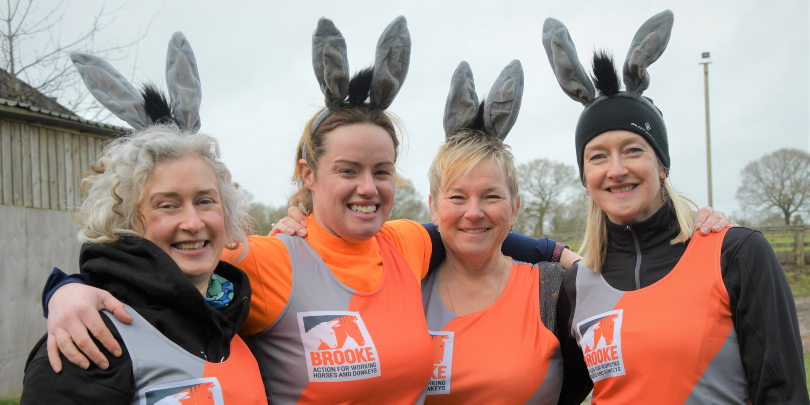 About the Run
This 5k family fun run will take place on the picturesque estate of Highfield Farm, the same grounds as the prestigious Wellington Horse Trials. The run is not timed, so you are welcome to run, jog, walk, dance or skip your way around the course.
Pushchairs and wheelchairs are welcome, but please bear in mind the course is quite undulating and will take place on grass. Dogs are welcome on leads.
Included in your ticket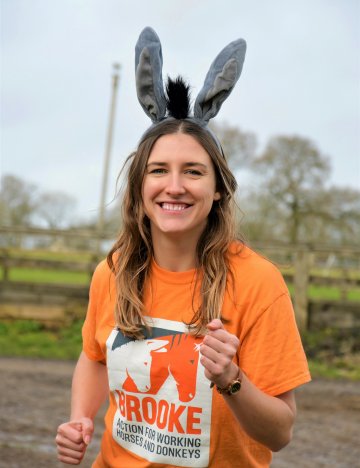 All runners will be provided with donkey ears and a tail - you just need to bring your best 'Eeyoreee!'. Everyone will also receive a special Brooke rosette on completion of the course.
In addition to this, there will be a DJ, a fun professional warm-up, and food and ice cream vendors.
Most importantly, there will be real-life miniature ponies and donkeys onsite for everyone to meet and have photos with.
When & Where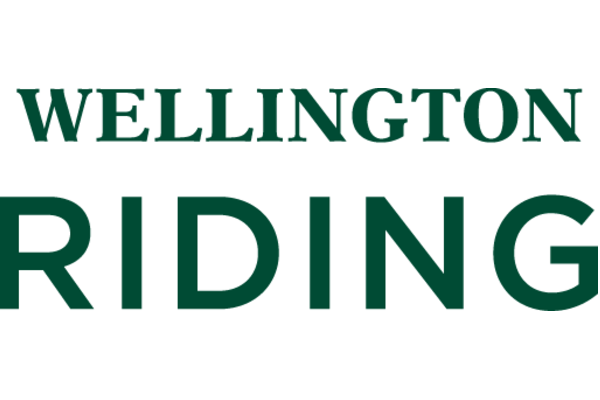 Date: Sunday 12th July 2020
Location: Wellington Riding, Highfield Farm, Hook, Hampshire, RG27 0LE.
Time:
9.45 AM – Registration opens
10.45 AM - Dance warm-up
11 AM - Race starts
Ticket Prices
Earlybird prices will be available until 6th April.
Adults: £19 (£16 earlybird)
Teens (age 12-17): £15 (£12 earlybird)
Children (under 12): £12 (£10 earlybird)
Under 4s: £2 (£1 earlybird) - Rosette only. Please buy a children's ticket if you would like the ticket to include donkey ears and a tail.
FAQ
Please review the Donkey Dash FAQs.
Sponsorship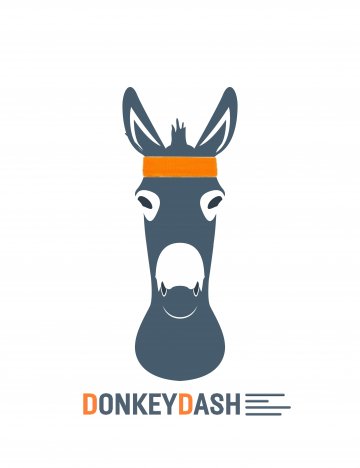 Raising sponsorship is not compulsory for The Donkey Dash, but we ask all of our participants to try and fundraising additional money to help us improve the lives of working donkeys, horses and mules around the world. Every penny counts!
£26 - This could bring vital support to six hard-working horses, donkeys or mules. From providing access to services like Brooke-trained vets and farriers, to helping owners to understand their horse, donkey or mule better, we'll do what we can to help six needy animals.
£40 - This could help Brooke set up Donkey Care Clubs in schools so that caring for animals becomes second-nature to children, creating a lifetime of love and understanding.
£100 - This could help train a local farrier to trim and balance hooves, reducing lameness and protecting animals from unnecessary pain and enable the farrier to earn and provide for his family. The farrier will also be able to pass on animal welfare advice to local owners, so your kind gift could improve life for a whole community's animals
For more information about the event, please read our FAQs or contact the Brooke team on [email protected].
Please note this event has been postponed until 2021 due to COVID-19. Keep an eye on our events calendar for next year's event.