February volunteer of the month - Alexandria van Onselen, County Down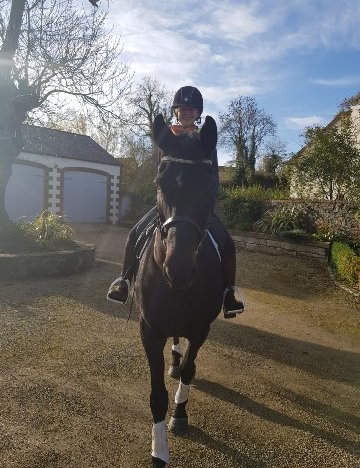 Alexandria van Onselen, 15, from Ballygowan, Northern Ireland started her journey as a volunteer fundraiser for Brooke in September 2020 and is loving every minute!
Alexandria's first experience with Brooke was through Brooke's DonkaDoodle art competition that she entered in 2020.
At that time, she had been searching for a volunteering opportunity as part of her Duke of Edinburgh Bronze Award and Brooke seemed like the perfect charity, especially as our four-legged friends, horses and donkeys, have been the center of Alexandria's world ever since she can remember.
Alexandria explains: "I have been an avid rider from the age of four and was dreaming of ponies and unicorns even before that, I am now 15 with a greater passion for horses than ever".
Her family moved to Northern Ireland from Cape Town two years ago and having witnessed first-hand the mistreatment of horses and donkeys in parts of the city where they are used to collect scrap metal and transport other heavy loads often over long distances without the appropriate care really makes the charity a cause close to her heart.
Having ridden for many years in South Africa Alexandria is fortunate to be able to continue and develop her skills with conditioning training as well as learning the ways of horse rehabilitation at No.10 Equine with a highly skilled instructor Karen O'Hara, who has extensive experience in the equestrian industry.
Alexandria explains: "The fact that the funds we raise here in Ballygowan are used by Brooke where the need is greatest across the countries where they work to help working horses, donkeys and mules makes me so proud to do my small part in helping this important cause. COVID restrictions have certainly made fundraising an interesting challenge but using technology such as WhatsApp and Instagram as well as more traditional marketing such as word of mouth I managed to raise £100 by selling Christmas cards, pens, bandanas and pin badges"
She continues: "I know that my journey with Brooke is just beginning and I am really looking forward to helping the charity in as many different ways that I can"
Caroline Robertson, Senior Community Fundraising Officer said: "When I met Alexandria and her family back in the Summer of 2020, Alexandria's  passion to help Brooke and begin fundraising and raising awareness of our work shone through. For our newest and youngest volunteer fundraisers to be able to gain credit towards their Duke of Edinburgh Award through their fundraising for Brooke is truly exciting and inspiring. Alexandria has lots of brilliant fundraising ideas and I am looking forward to working with Alexandria, her friends, family and the local community of Ballygowan on their journey of fundraising for Brooke"
Alexandria joins our large network of volunteers fundraising for Brooke around the UK. Money raised from volunteers goes towards Brooke's work across Africa, Asia, the Middle East and Latin America, making lasting improvements to the lives of working horses, donkeys and mules and the people who depend on them.
If you're interested in volunteering, joining a group or forming your own group please email [email protected].