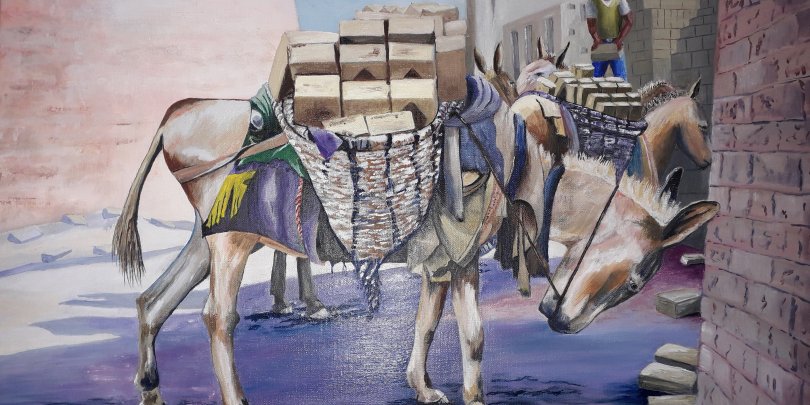 Exhibit Info
Malcolm Filsell has been a lifelong animal lover and Brooke supporter for many years. Some years ago, whilst working in Ethiopia and South Africa, Malcolm witnessed first-hand the value and importance of working animals to their owners and the extremely difficult environments they all had to survive in. Malcolm has also travelled in India where he witnessed similar plight of working equines. These experiences will remain with Malcolm forever and Brooke coverage of Project Bricks really brought home to him and reminded him of the chaos that is India and the suffering of people and animals in Ethiopia. Brooke featured an article spotlighting working donkeys and mules in the brick kilns of India and pictured a donkey named Chindu and his suffering was clear to see in his photograph.
Malcolm is an avid amateur artist, painting in oils, acrylics and occasionally water colour. He felt compelled to capture Chindu's plight on canvas with the aim of helping Brooke raise vital funds to make a positive difference to the lives of hardworking equines and the families who depend on them for their livelihood.
Chindu is an original oil painting on canvas measuring 70cm x 50cm. Malcolm's study taken from an original photo © Freya Dowson, Brooke
If you would like to own this stunning oil canvas, please bid generously.