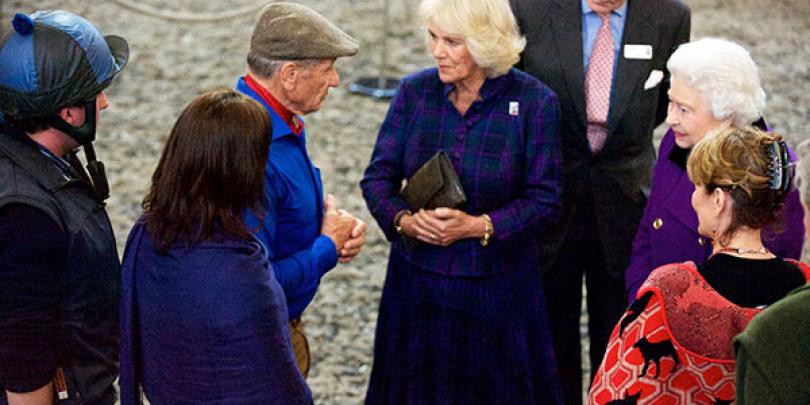 With a lifelong passion for equine animals, the Duchess has visited our work in India, Pakistan, Jordan and Egypt, and regularly attends supporter events in both the UK and USA.
Reading at Brooke's inaugural carol service
At the service, held in December 2018 at London's Guards' Chapel, The Duchess read from Grant Hayter-Menzies's book The Lost War Horses of Cairo, which details the life of Dorothy Brooke.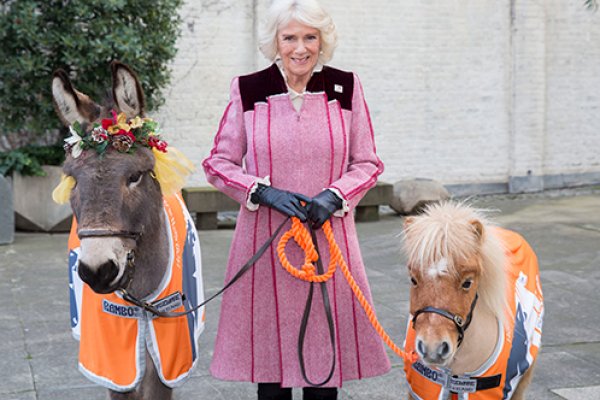 The Duchess and other guests were delighted to be met by Ollie the donkey and Harry the minature Shetland pony (pictured right) as they arrived at the service.
The event - also attended by gold medallist Victoria Pendleton and actor Peter Egan - raised over £26k for Brooke.
As President of this unique charity, I am proud to tell you that the Brooke reaches more working horses, donkeys and mules than any other animal welfare charity. For over 80 years, the Brooke has been sharing its experience and expertise to improve the welfare of working equines around the world. I have witnessed the Brooke's work for myself in Petra, Jordan and in 2013 I was able to meet and personally thank Brooke staff in India for their role in Uttarakhand, where the Brooke India team provided emergency relief to stranded equines in various pockets of the flooding disaster affected area.

Horses have always played an important role in my life; my father was a cavalry man, who truly understood the life of a working horse. I am continually impressed by the thoughtful approaches the Brooke develops to engage with communities and change the way that people think about animal welfare
related news
Her Royal Highness The Duchess of Cornwall attended the Brooke charity Christmas Carol Service.
Ollie the donkey and Harry the minature Shetland pony greeted guests arriving at the carol service.
At an event to mark Brooke's 80th anniversary, HRH The Duchess of Cornwall spoke about how her passion for the charity had been lit by her father, who served in Egypt during the First World War.
Help us improve the lives of working horses and donkeys, and the communities which rely on them.