Healthier hooves in Agra
Brooke India found a unique way of improving the welfare of working equines as well as the lives of local farriers.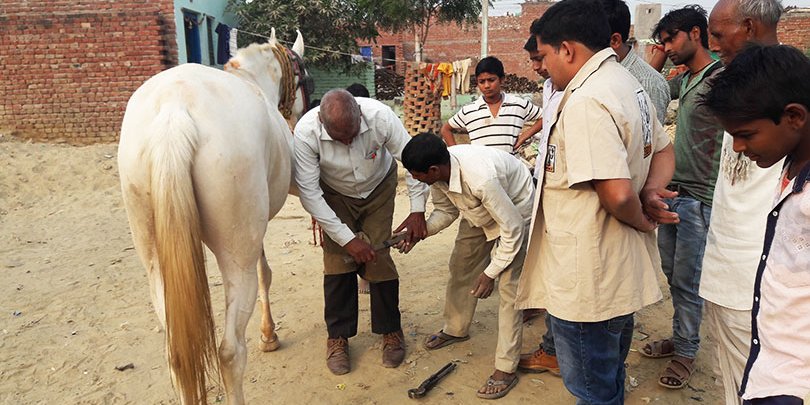 Good hoof care
Lameness was common among working equines in Agra, particularly in those used in tourism, brick kilns and transportation. An assessment by Brooke India of 11,000 working animals in the area showed the cause was often a lack of understanding of good hoof care and limited access to quality farriery services.
After the assessment, Brooke India met with equine owners to discuss the need for good hoof care. They also offered to support them in finding quality, affordable farriers.
Local farriers, however, were from socially marginalised sections of society and had never received any formal training. Farriery is not recognised as a profession so there's little opportunity for training or personal development. Heavily dependent on knowledge traditionally inherited from their fathers, it wasn't going to be easy for them to adopt different, more welfare-friendly practices.
A plan was needed which would improve life for both farriers and working equines.
Recognition for the profession
Through the Animal Husbandry Department of the Indian government, Brooke India discovered a Farriery Licensing Rule under the 1965 Prevention of Cruelty to Animals Act. This rule allows the government's Chief Veterinary Officer (CVO) to certify and grade local farriers to encourage better farriery practices.
So when Brooke India proposed training for local farriers on animal welfare and good quality practices, they could reassure them that they – and their profession – would finally be recognised by the government.
I was going to quit farriery because I was not getting any profitable income from this work, but Brooke India, through its training, made me realize the importance of my work for equines. I have adopted Brooke's welfare friendly farriery practices in my daily routine and I also educate my fellow equine owners regarding proper hoof care, and promote the use of quality shoe for equines, which has also increased my business.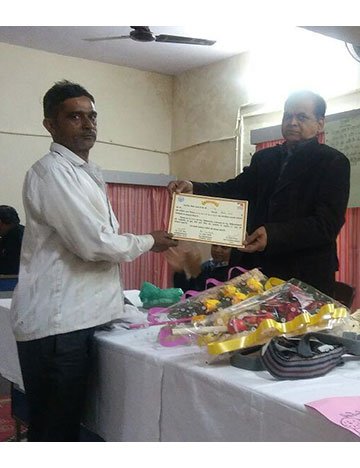 Training and grading the farriers
To be selected for training, the farriers' working practices, their willingness to learn and improve, and the quality of their work were all taken into consideration. A total of 25 local farriers were selected.
Brooke India, with the support of Government Veterinary Officer (GVO), undertook the grading using the farriery mentoring framework, a monitoring tool which they had developed.
Assessment of the farriers began on 8 December 2017. Grades were discussed with the CVO. Four days later the first certificates - signed by the CVO, GVO and Brooke India's vet - were awarded.
I am very happy to receive certificate with the help of Brooke India. This certificate made me feel proud of my profession. I have learned quality farriery skills from the Brooke India team which has enhanced my confidence as well as increased the demand for quality farriery and increased my income. 
With your help, we can reach even more communities.