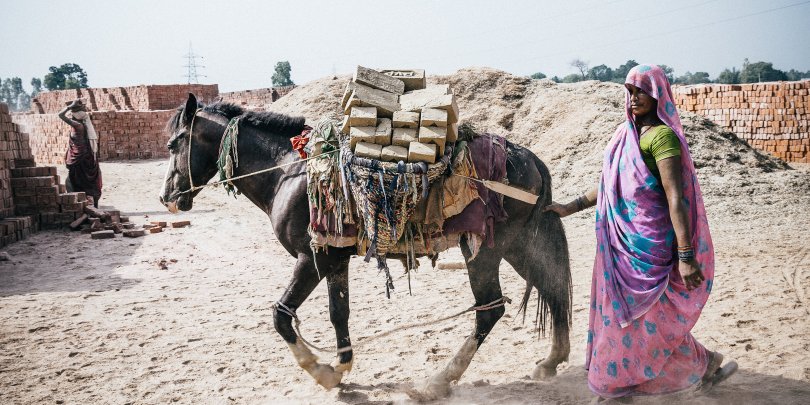 Brooke is seeking to build lasting and effective partnerships with organisations for the realisation of our respective strategies, realising the interconnections between working animals and the people who depend on them.
With active and effective partnerships, Brooke is seeking to extend and deepen its reach in making an impact on sustainable changes to animal welfare while also benefiting people and the environment (as per Brooke's Global Strategy and Theory of Change). We are looking to invest in projects that deliver collaboration to improve human and animal welfare using an approach guided by the principles of One Welfare.
Brooke is inviting funding proposals of up to £50,000 - £200,000 per annum for a period of up to 36 months from organisations whose work includes people who depend on the labour of donkeys, horses or mules. A two-stage competitive selection process is outlined below for projects with start dates no sooner than 1 September.
Successful applications will be from established organisations with a track record for demonstrable impact and will show how the work will result in sustainable and measurable changes effecting animal welfare.
About us
Brooke is an international working equine welfare organisation which recognises that working horses, donkeys and mules support the livelihoods of some of the poorest people in the world through the provision of transport, draught and ploughing. They are key to successful farming systems and industry in the developing world. Often forgotten, their welfare is central to the success of these livelihood strategies. In supporting sustainable livelihoods and resilience, Brooke is contributing to the attainment of the sustainable development goals (SDGs), in particular:
Goal 1: End poverty in all its forms everywhere
Goal 2: End hunger, achieve food security and improved nutrition and promote sustainable agriculture
Goal 6: Ensure availability and sustainable management of water and sanitation for all
the proposal
Successful project proposals will be innovative and effective in supporting small scale interventions that have been developed with the participation of those who will benefit and are reflective of the context in which change will occur. They will demonstrate an understanding of One Welfare and an alignment with the SDGs. 
We particularly welcome proposals that will result in:
Integration of working equine welfare into projects promoting livelihood benefits for equine owning communities
Empowerment of women equine owners/users and sustainable changes to their livelihoods and animals' welfare
Work with children and young people
Contribution to household food and water security for livestock and owners 
Monitoring and Evaluation
All projects must demonstrate how progress towards results will be monitored, and are required to allocate part of the overall grant to monitoring, evaluation and learning. Additionally, Brooke reserves the right to commission independent mid-term or final evaluations of any project it funds.
​The Budget
Applicants are expected to set their budgets to cover the full cost of delivering the project. Support costs, such as salaries, are eligible, but must be critical to delivering the proposed project outcomes, rather than in supporting core activities of the recipient organisation.
Due Diligence
Pre-grant due diligence is a requirement for all successful Brooke applicants, prior to making any payments, as part of our processes to ensure donor income is spent appropriately. It is not used to short-list grantees, but to ensure that partners selected to receive Brooke funding/grants are legitimate organisations. All organisations seeking to partner with Brooke should be prepared to cooperate with this process.
Brooke's animal welfare policy
Brooke cannot fund activities that do not meet the requirements of this policy:
Selection
This is a competitive process. Project concept design submissions will be shortlisted and successful organisations asked to submit a full-length proposal. Success will depend on the following:
A clear organisational mission/purpose with a successful track record
Relevance to Brooke's Global Strategy, Theory of Change and areas of interest highlighted above
Clear and informed identification of issues, considering the involvement of those most effected by the project
Realistic outputs and outcomes supported by relevant activities
Potential for sustainable impact
Value for money
Review process timeline
15 June: Deadline for submission of project concept design
22 June: Successful applicants invited to submit full proposal (narrative, budget and logframe - templates to be shared by Brooke)
20 July: Deadline for full proposal from applicant
3 August: Decision from Brooke