Dressage rider Alice Oppenheimer hosts event for Brooke marathon runners at her yard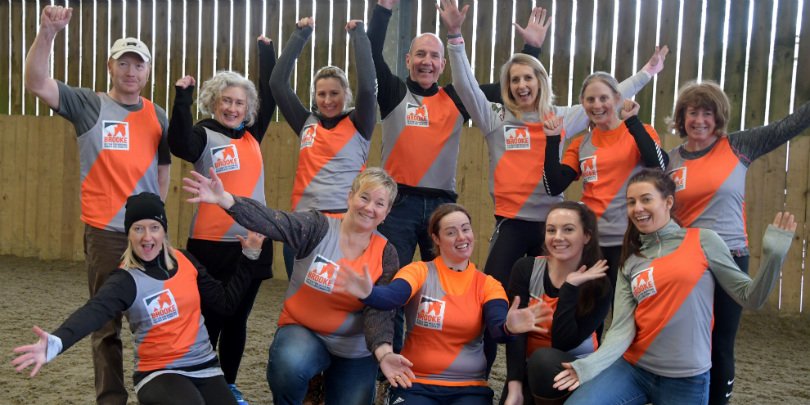 On Sunday 2 February, British dressage rider Alice Oppenheimer opened the doors of Headmore Stud and Livery to this year's Brooke London Marathon runners for a day of training and fundraising tips.
Alice, who announced she would be running for Brooke last autumn, decided to host the event as a way of connecting with her fellow runners. The day included an expert training session, fundraising advice from Brooke's Corporate and Community Fundraising Manager Paul Munro and a tour of Alice's yard.
She said: "Marathon training can be quite a solitary activity, especially at this time of year when the days are short and the weather is cold. As such, it was brilliant to spend time with my fellow Brooke runners today and share training and fundraising tips. Having visited Brooke's work in India in 2015, I've seen just how much of a difference donations can make, so I can't wait to see how much us runners can raise towards hard working horses, donkeys and mules around the world."
Alice has supported Brooke for many years and most recently put her name to campaigns including MyHackathon and Every Horse Remembered.
Among the runners in attendance was professional rider and producer of Mountain and Moorland Ponies Sam Roberts. She said: "It was great to get some advice from the experts and meet the other runners who are also putting themselves through the gruelling training it takes to do a marathon. One tip I unfortunately won't be following is to take it easy the day before the race; as I will in fact be riding in about 5-8 classes at The National Pony Society Spring Festival. Brooke is a charity close to my heart so I am thrilled to be able to raise funds for them in this way."
Alice has boosted her fundraising by hosting giveaways on her Facebook page, giving followers the opportunity to win prizes including a meet-and-greet with Charlotte Dujardin and a Flying Changes bespoke jacket. To be in with a chance of winning, followers need to donate to Alice's JustGiving page and then follow the instructions on her Facebook page.
You can sponsor Alice's London Marathon here https://www.justgiving.com/fundraising/alice-oppenheimer