Celebrating Brooke's fundraisers this International Volunteer Day
With physical events largely cancelled and opportunities to connect with others greatly reduced, this year in fundraising has been unlike any other. However, Brooke's tireless volunteers have continued to raise awareness and vital funds for the world's most vulnerable working horses, donkeys and mules and the people who depend on them.
Saturday 5 December marks International Volunteer Day and here at Brooke we're highlighting some of the amazing people and groups who have helped us through this difficult year.
January – Louise Brown, West Kent
Louise, who lives in Tunbridge Wells, has been fundraising for Brooke since 2007. Louise regularly holds collections, attends events and gives talks in her local area, with the help of her fellow West Kent group members. Together, they have raised just over £75,000. Read more. 
February - Sue Zacharias, Jedburgh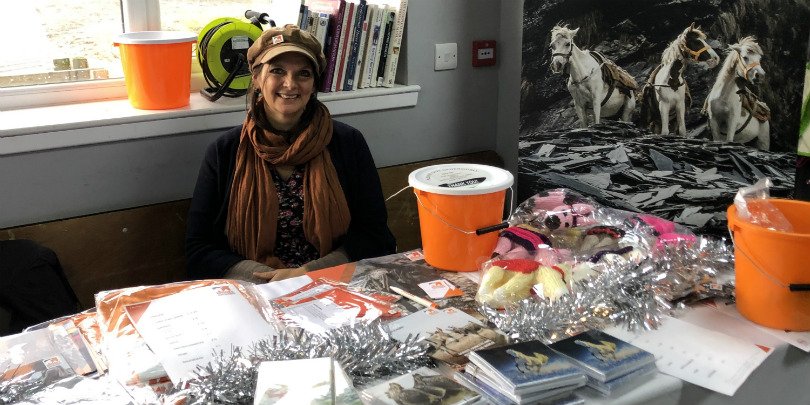 Horse trainer and stunt team member Sue has raised £1000 for Brooke over the last decade. Leader of the Jedburgh fundraising group, Sue is also a member of Les Amis d'Onno, an equestrian display troupe based in the Scottish Borders. Sue has raised money for Brooke at various stunt shows with Les Amis, as well as organising local events like Christmas Fairs. Read more. 
March – Vicky Farmer, East Midlands
Vicky heads up Brooke's East Midlands group and has fundraised for us since 2004. In that time, her region has managed to raise £100,000. In 2008, the group raised enough money to ensure the purchase of two mobile clinics in Pakistan, where there are an estimated 4.75 million working equines. Read more. 
April – Kathy Griffiths, South Cumbria
Kathy, who has volunteered for Brooke for six years, used her time in isolation to teach others how to create arts and crafts for a good cause. Kathy created a handy guide on how to turn used glass bottles into decorative lights, which is now available to read on our Supporting Brooke at Home page. Read more. 
May – Leone Martin, Exmoor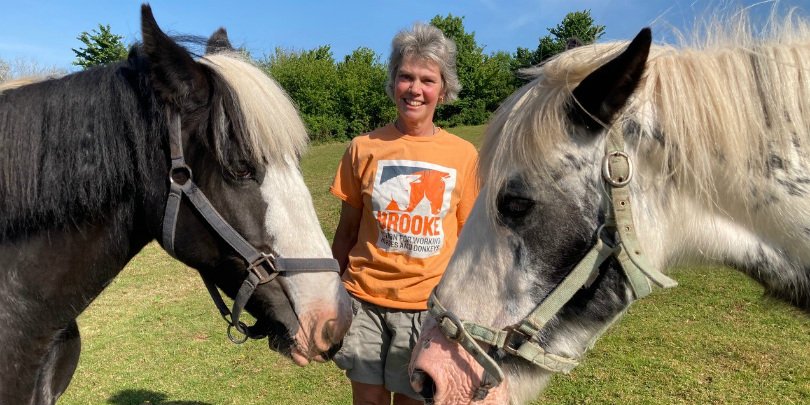 Leone Martin from Sampford Brett has been fundraising for Brooke since 2005, personally raising over £60,000 for the charity during that time, and well over £120,000 along with her Exmoor volunteer group members. A firm believer in the power of re-cycling, Leone has raised a great deal of money for Brooke by selling used tack at local shows, car boot sales and eBay. Read more. 
June – Lichfield Group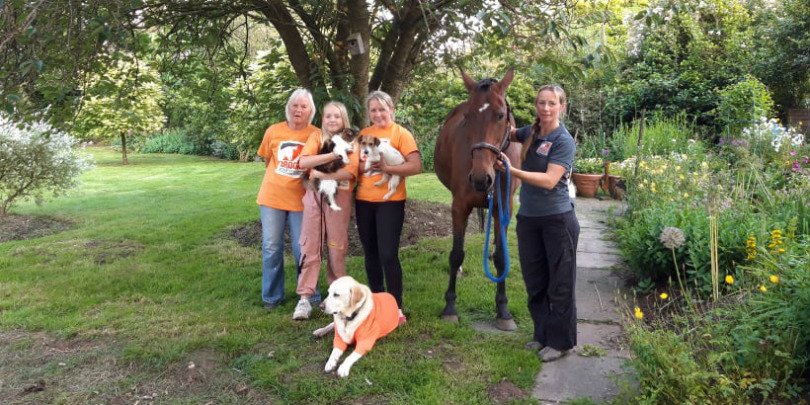 Led by Sandra Newcombe, the Lichfield group have been fundraising for Brooke for over 20 years and have raised close to £250,000. The team plan and organise a variety of fundraising events, from plant and tack sales to quiz nights and are the face of Brooke at Your Horse Live. Read more. 
July – Jersey Group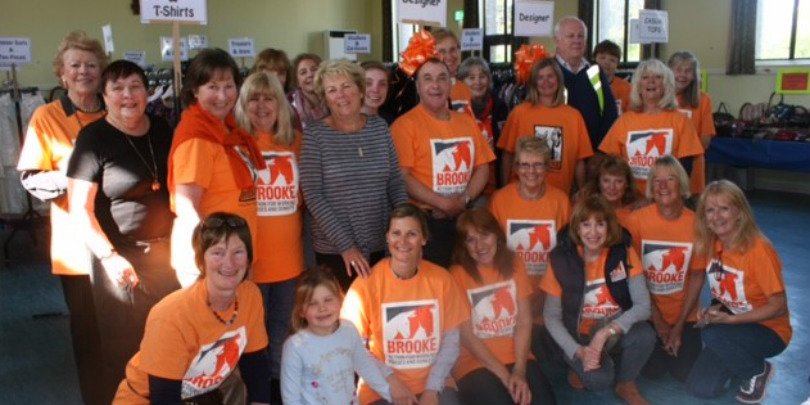 Brooke's Jersey Volunteer Group have been fundraising for 19 years and in that time have raised an amazing £390,000 to help working horses, donkeys and mules around the world. The group, which is headed up by Mary Gaiger, hosts regular events throughout the year including an annual quiz, the Handbags and Glad Rags dress sale, the Spooky Pooches Halloween Walk, and until the recent passing of Mary's donkey John Henry (pictured), their annual St. Helier Street collection. John Henry, along with his canine friends, raised £16,000 over the years until he passed away in December 2019 aged 33. Read more. 
August – Sandi Cole, North Yorkshire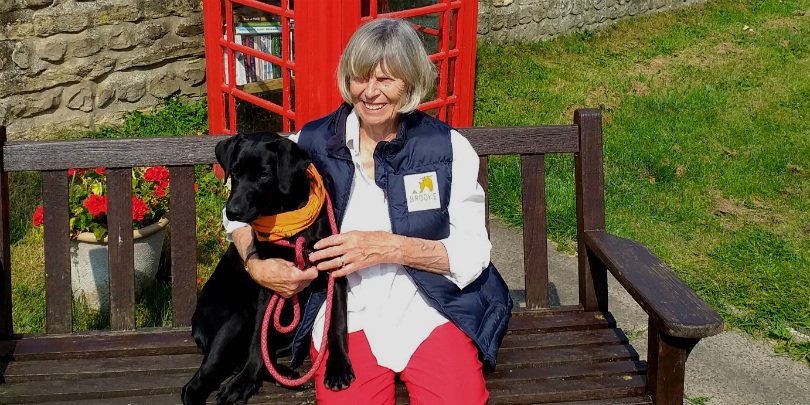 Sandi Cole from Ripon has supported Brooke since 2006. In 2016, she took over as Group Leader of the North Yorkshire Fundraising Group and during that time has helped to raise nearly £100,000. Sandi and her group of North Yorkshire volunteers organise a variety of annual events including For the Love of Horses coffee mornings, bake sales and tombolas at local riding stables, collections and raffles at Ripon Races, and Brooke's Winter Ball. Read more. 
September – Jenny Lack, Shropshire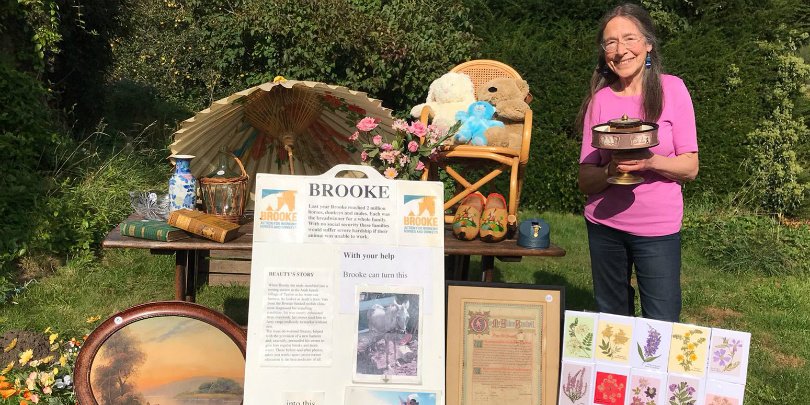 Jenny, from near Ludlow, Shropshire has been a Brooke supporter for over 30 years and in that time has raised nearly £150,000. In 2009, Jenny and her daughter, a veterinary surgeon, even travelled to Egypt to see Brooke's work. Read more. 
October – Pat Layton, Warwickshire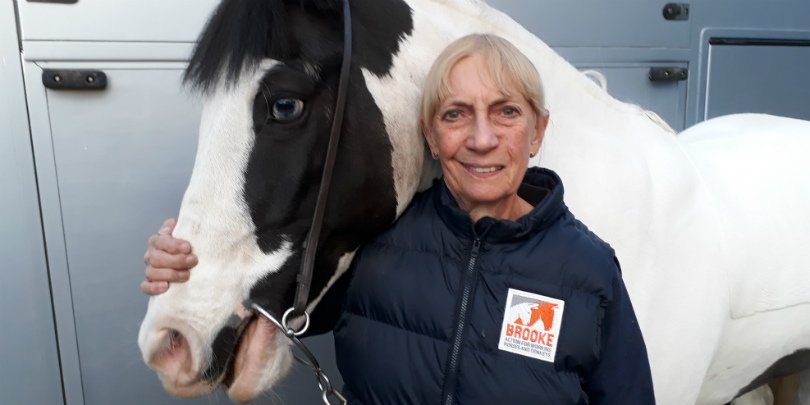 Pat from Alcester heads up Brooke's Warwickshire group of volunteers and has raised an amazing £24,574 since she started supporting Brooke in 1988. Over the years, Pat has been an excellent ambassador for Brooke thanks to her sales of Christmas cards and second hand items on eBay. Her stall has also been a regular fixture at The Arab Championships in Malvern. Read more. 
November - Blackpool & The Fylde Group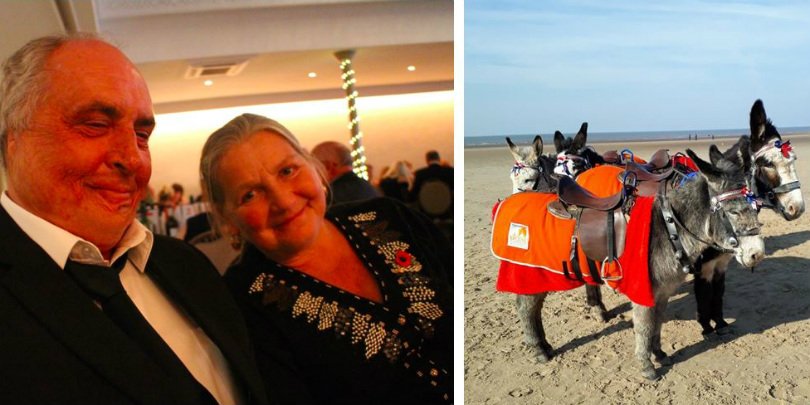 Blackpool & The Fylde is one of Brooke's newly formed group of volunteers and includes eight very special four legged members! Formed in 2017, they have raised nearly £3,000 and significantly contributed to the extraordinary success of the three Brooke Annual Winter Balls fundraising total of £53,400. Led by Eileen Nicholls and David Simmons, the group includes eight beautifully cared for donkeys called Cochise, Warrior, Shane, Apache, Kyouwa, Cheyenne, Sioux and Cherokee (fondly known as The Boys!). Read more. 
We would like to say a massive thank you to all our volunteer fundraisers, especially from all the hard working horses, donkeys and mules and people in some of the world's poorest communities who will benefit from your amazing fundraising. The creative, imaginative ways you've found to raise funds in recent months have been particularly impressive!
If you're interested in becoming a volunteer fundraiser, joining a group or forming your own group please click here or email [email protected]