Brooke calls on supporters to spread kindness this festive season
Brooke's Christmas campaign will celebrate the small acts of kindness which have seen us all through this difficult year. Although the festive season is set to be a little different this year, we're lining up a bumper range of activities to help us stay connected whilst highlighting the vital role that working horses, donkeys and mules have played in keeping communities going during this challenging time.
Upcoming activities will include a special Christmas edition of the Brooke quiz on Wednesday 16 December, hosted by broadcaster and charity Patron Alastair Stewart, who will also preside over a prize draw. Meanwhile, Brooke-branded Zoom backgrounds will give supporters the opportunity to show off their support to their friends and family.
Craft fans can check out Brooke's Christmas Craft Pack, which contains the patterns for Christmas-themed crochet and knitted donkeys, a donkey card holder, and a donkey tree decoration. In line with this year's theme, we're asking supporters to spread #KindnessAtChristmas by crafting and then gifting one of these items to someone special.
As ever, Brooke Shop is full of great Christmas gifts that give back. From first aid kits to water troughs, there's a virtual gift for every budget and each one has the power to truly transform the lives of working animals and the people who depend on them.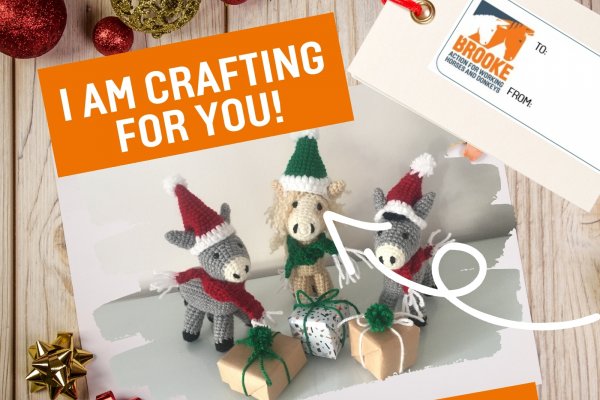 Finally, Brooke will once again take part in the annual match-funding campaign The Big Give from 1-8 December. Donations made via The Big Give during this time period will be doubled up to the amount of £30,000 and donations will go towards Brooke's work tackling the donkey skin trade.
Around the world, from towns and cities to tiny villages, we've all pulled together to look out for each other and show kindness throughout this terrible crisis. When we haven't been able to see friends and family, our pets have kept our spirits up and where Brooke works, people's working animals have not only shown companionship but also provided essential transport for food, water and supplies. Simply put, working horses, donkeys and mules have ensured the survival of their communities.
This Christmas, Brooke is calling on supporters to spread kindness across the world, bringing life-long happiness to these animals and the people who rely on them. To stay updated on all upcoming Brooke events, check here or our Facebook page.