High Teas For Gee Gees FAQs & Tips
Your High Teas for Gees Gees questions answered, plus some top tips to make your tea party a success.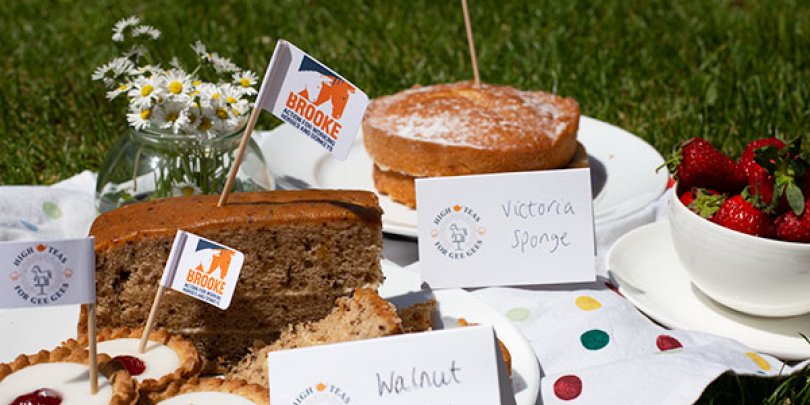 Top Tea Party Tips
Ideally, give your guests a few weeks' notice.
Don't have a cake stand? Place a sturdy glass or jar on top of a large dinner plate, and balance another plate on top of that. You could fill the glass with flowers for an extra touch.
It's all in the presentation… Cut your sandwiches into triangles or squares to make them look fancy, and scatter plates with herbs or small flowers. Decorate your table with the Brooke bunting in your fundraising pack, along with the special High Teas for Gee Gees display cards and food flags.
Some people have a sweet tooth while others are all about the savoury, so make sure you cater for both: maybe cheese straws and sandwiches as well as cakes and biscuits.
How about offering a selection of teas? Perhaps a classic Earl Grey with a slice of lemon, a refreshing fresh mint tea or a warming ginger. You can make your cold drinks more interesting by providing jugs of water with curls of cucumber, or elderflower pressé with slices of lime. You could even freeze ice cubes with flowers or fresh mint inside for extra wow factor.
Create the right atmosphere with some background music. This always helps when there's a smaller group of people!
When Should I Host My Tea Party?
You don't need a reason to hold a High Teas, especially if the weather is great, but you can coincide it with a sporting event, a national holiday or a graduation. You can use any day as an excuse to hold a High Tea for Gee Gees!
Download our invitations to send to potential guests:
Can You Give Me Some Fundraising Ideas?
Ask your guests to make a donation for coming to your High Tea. You could do this when they arrive or by creating a JustGiving page – anyone who can't join you can still make a donation, and all JustGiving donations are sent directly to us so there's less for you to do.
Charge for each item eaten (but make sure to keep an eye on who's eating what – this usually works best for people who are coming and going).
You could hold a small raffle. Ask local businesses to donate items or experiences, such as a special box of chocolates or a manicure at your local beauty salon.
How about having some games for people to play? From pin the tail on the donkey to a blindfolded tea tasting, there are lots of extra activities you can do.
How do I send the donations I collect to Brooke?
If you set up a page on JustGiving, all the donations will be sent to Brooke automatically. You can pay in all other donations you raise in any of the following ways:
Through our secure payment page. Simply choose the 'Make a one-off donation' tab, tick the 'Select if the money has been fundraised' box and select High Teas for Gee Gees from the drop-down list.
Make a card payment over the phone - call us on 020 7470 9393.
Send us a cheque to: Brooke, 2nd Floor, The Hallmark Building, 52-56 Leadenhall Street, London, EC3A 2BJ. Please remember to include your name and address and tell us that you held a High Tea for Gee Gees tea party.
Can you inspire me with some recipes?
Here are some from our favourite bakers: