30 April 2021 - 12:00am
to
3 May 2021 - 11:00pm
Captain Tom 100
The world is invited to celebrate Captain Tom's amazing achievements in a special event over his birthday weekend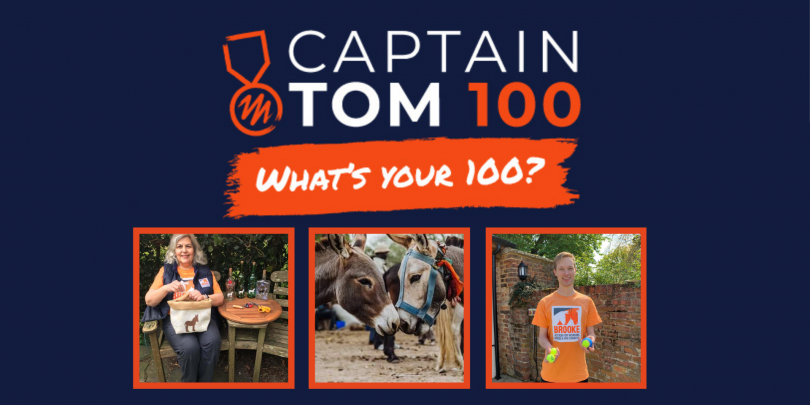 Brooke is inviting you, your family and friends to take part in the Captain Tom 100 over the Bank Holiday weekend to celebrate Captain Sir Tom Moore's amazing achievements and raise vital funds for working horses, donkeys and mules.
Friday 30 April would have been Captain Sir Tom's 101st birthday and is the one-year anniversary of the extraordinary celebrations that followed the conclusion of his fundraising walk that raised an incredible £38.9 million for the NHS.
Following the outpouring of heartfelt messages since Captain Sir Tom's death on 2 February this year, his family pledged to celebrate his life with an event that everyone around the world could get involved in to celebrate his generosity, hope and sense of fun – the Captain Tom 100.
Support Working Horses - Set Up Your Own Fundraiser
All you need to do is dream up your Captain Tom 100 – an activity of your choice based around the numbers 100 – and do it any time and anywhere from Friday 30 April through to Bank Holiday Monday 3 May.
Your 100 could be walking 100 steps each hour or running 100 metres,  baking 100 cakes, climbing 100 stairs, 100 seeds planted in the garden,  writing a 100-word poem, drawing 100 horses – anything at all, inside or outside. It's your chance to do it your way! If you are stuck for ideas take a look at some suggestions. 
There are no limits to how you can take part in the Captain Tom challenge, as long as you're looking after yourself and keeping to the government guidelines on social distancing and how to exercise safely during this time.
Whatever you choose to do, please share videos, photos and fundraising pages on your social media using the hashtag #CaptainTom100 and of course please remember tag Brooke too.
Donate To Brooke
If you prefer to make a donation to Brooke as part of The Captain Tom challenge instead of setting up a fundraising page, please click on the link and select Donate. If you would prefer to donate over the phone, please call 020 7470 9393, or for post please contact us here.
Thank you so much for supporting Brooke. Please contact us at c[email protected] with any questions or comments - we would love to hear from you!