Kate Fletcher, Senior Manager, Global Animal Welfare
Kate is an animal welfare specialist based in our London office. She coordinates the Global Animal Welfare team across our country programmes, and is responsible for chairing our Animal Welfare Ethical Review Body (AWERB).
Expertise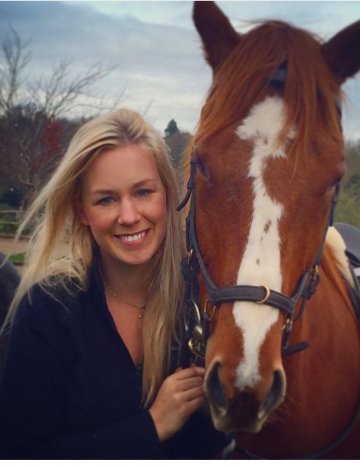 Applied ethology
Human behaviour change
Equine behaviour and welfare
Equitation science
Training and mentoring teams
Qualifications
Master of Science in Equine Behaviour, Performance and Training
Diploma for RSPCA Inspectors in animal welfare and law
Certificate in Leadership and Management
Certificate in Coaching and Mentoring
 
Memberships:

Professional accredited member of International Society for Applied Ethology (ISAE)

Professional accredited member of Association for the Study of Animal Behaviour (ASAB)

Accredited Practitioner of International Society for Equitation Science (ISES)

Professional accredited member of the Animal Welfare Research Network (AWRN)
Publications
Fletcher, K. (2020). We need to drastically improve animal welfare standards globally to avoid another pandemic. EuroNews. Available here.
Hobbies
Other than looking after my two rescue horses, I enjoy equine behaviour and training, travel (anywhere and everywhere!), hiking with my dog, art (I am a professional animal portraiture artist) and learning to play guitar (badly!). I also volunteer as welfare coordinator for a small equine charity.
Most memorable work moment
Sadly, due to only starting at Brooke in mid-January 2020 and the whole world being put on lockdown shortly after due to COVID-19, I am yet to visit the field, as my first trip was scheduled just as we hit lockdown! In the absence of being able to see Brooke's fantastic work in our country programmes, however, my highlight so far has to be meeting our senior country programme staff in my first week, who were conveniently all visiting the London office for a global management meeting. It was a fantastic induction into Brooke's work, to be able to chat to them all in person and hear more about their projects.
Best part of your job
Undoubtedly getting the opportunity to work with so many knowledgeable and passionate people from across the globe, all working towards improving the lives of animals. At Brooke, I feel like I'm always learning something new every day, which is exactly what I hoped the role would be, as there is such a strong learning culture here and proactive evidence-based approach to improving welfare internationally.
How did you get your job?
I worked for a large animal welfare charity for the past decade, doing frontline welfare assessment, coordinating specialist teams and developing scientific resources about animal welfare. I also completed an MSc, where my dissertation looked at communicating scientific methods of welfare assessment to equestrians and analysing attitudes towards equine emotional state. I think this experience in welfare, along with various voluntary roles within international charities, helped me land my role at Brooke. I am only here on a 13-month parental leave cover, but Brooke definitely gets under your skin quite quickly!