Frances Goodrum, Senior Manager Global External Affairs
Frances is an external affairs specialist based in Brooke's London office. Her role is to oversee Brooke's work to raise the visibility of working horses, donkeys and mules and ensure they are protected in policy in some of the most challenging settings we work in. 
Expertise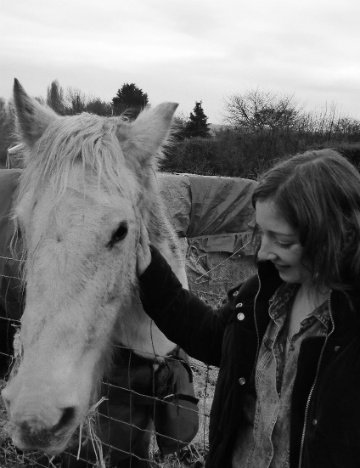 Frances developed her expertise in external affairs, including campaigning and lobbying, through senior roles at Dogs Trust and World Animal Protection before joining Brooke in 2015.  Frances is also trained in copywriting, facilitation and working to an accreditation in canine behaviour.
Qualifications
Frances is an LLB law and LPC graduate (2007, 2008) and a former lawyer, a career she left on qualification in pursuit of lobbying for animal welfare change. 
Hobbies
I love painting and family walks in the countryside with Daisy, our very charismatic dog.  I love cooking, in particular Indian cuisine, a passion fuelled by my induction trip to Brooke India where I enjoyed so many delicious vegetarian curries.  I am addicted to music, especially Bob Dylan and David Bowie, but am not musically talented, it took me almost a decade to achieve grade 1 viola…I persevered! 
Most memorable work moment
During my time at Dogs Trust as Head of Campaigns we worked on an awareness campaign to encourage people to pick up after their dog.  I enjoyed seeing and judging some fantastic "be a Scooperhero" posters from the schools we worked with, and which local councils then used to positively encourage responsible dog ownership.  Campaigning at Dogs Trust often involved working on some very difficult and distressing topics, such as the cross border smuggling of puppies in terrible conditions, so these simple moments to get people cleaning up after their dog provided some light relief.
Best part of your job
I love lobbying in partnership.  At a recent OIE General Assembly working with ICWE and my colleagues from animal health we brought the reality of brick kilns to life through Brooke's incredible virtual reality headset.  I loved using innovative technology to drive our messages home to the Chief Veterinary Officers across 182 countries; sometimes a policy brief isn't enough.  Advocacy can be an uphill struggle, I'm blessed to work with an imaginative communications team to help us advocate outside the box collectively.
How did you get your job?
Switching from a corporate legal role to campaigning wasn't easy, I had to start at the bottom again working my way up through project roles to technical influencing roles.  I also volunteered, read as much as I could and learnt from some incredible campaigners, such as Esmee Russell, my first campaigns line manager at World Animal Protection.  Years later when I saw an influencing role advertised at Brooke I was keen to apply, having admired their holistic efforts to promote a life worth living for donkeys, horses and mules.