Kimberly Wells, Senior Manager, Global Animal Welfare
Kimberly helps build animal welfare, equine behaviour and animal handling skills in colleagues across the globe.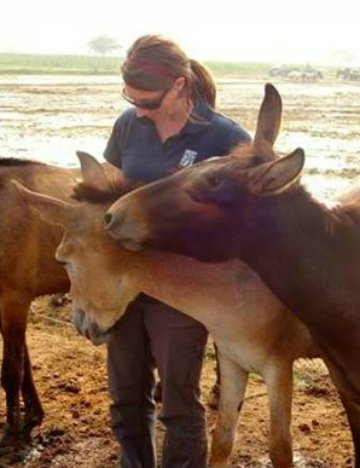 What time does your alarm go off and how do you start your day?
I pleasantly wake up at 7am to a gradually lit room and the chirping of birds or mooing cows, thanks to my 'Philips Wake Up Light Alarm Clock' my brother gave me. I listen to BBC News as I get ready for work and rarely deny myself a hot tea! I have a 40-minute commute to the office and I like to spend that time reading a book on my Kindle. I'm currently reading Farmageddon: The True Cost of Cheap Meat; otherwise enjoy historical fiction. Any suggestions?    
What are you responsible for in your role at Brooke?
I am the Senior Manager, Global Animal Welfare at Brooke. I lead in animal welfare, equine behaviour and animal handling capacity building for any staff member who requires it. I work with all teams to develop our culture of care towards working equine animals, championing integration of general welfare appraisal and appropriate handling of equines through all of our main approaches, and work to ensure our staff feel confident to take action should they see the welfare of a working horse, donkey or mule compromised. I regularly update our Animal Welfare Policy and other important guidance documents, such as the Use of Animals in Training and Mentoring, to ensure we all keep animal welfare at the heart of what we do. I oversee Brooke's Animal Welfare and Ethical Review Body, which reviews research proposals and offers ethical guidance to other areas of the organisation. I help the organisation consider how we may get involved in topical and emergent issues affecting equine animals, and provide technical support to our Fundraising and Communication teams. I've worked for Brooke for close to nine years, so I serve as a pretty good Brooke historian too!
How did you get your job?
I often say process of elimination because I didn't know that my education (in animal science and applied animal behaviour and welfare science) and work experience (as a veterinary nurse) would lead me to my dream job at Brooke. I grew up in Cape Cod, Massachusetts and with close access to the ocean my aspirations were to be a marine mammal veterinarian. It was my drive to gain work experience for veterinary school which led me to first work regularly with horses. It was all the work experiences which enabled me to realise that my greatest interest was addressing the root cause of animal suffering and ensure that people are able to care for, manage and use animals with respect to their welfare. In that sense, Brooke and I are a good fit and I'm lucky they thought so too.
What is your typical day?
Like other colleagues at Brooke, no day is the same. My role requires a lot of patience, interaction and work with others. While I wish I was doing the practical work our field teams do, the roles in the UK are about contributing to the bigger picture - facilitating others to achieve change for animals through the provision of technical, and sometimes emotional, support. I do travel overseas to work with colleagues; mostly I provide support from a distance using varied means. Emails, meetings, research, writing documents and facilitating workshops are common tasks. I occasionally speak at supporter events, to help bring to life the realities for the animals and the stories which demonstrate the progress our teams in the field are making.
What's your most memorable work moment?
Only one?! Helping others learn that equine animals can be handled without fear, force or harmful punishment – and then seeing this belief cascade. One of my most memorable trainings was with our newly recruited Senegal team, who had little experience working with horses and donkeys. Through the 'see one, do one, teach one' system, they are making more of a difference to the animals in their country now and for the future than they realise. It was nice to hear feedback from them that I played a part in that.
What is the worst part of your job?
Observing animals that are working while suffering from varied welfare issues - and knowing that this is a normal occurrence in countries where Brooke works. Equally knowing this is likely the case for people too. After more than ten trips to brick kilns in India, Pakistan and Nepal, I'll never look at a brick in the same way again knowing the effort that went into producing it by human and animal.
What is the best part of your job?
Being in the field and learning from our staff, service providers and the animal-owning communities, who are closest to the animals to make a difference. It's such an education to travel to and be welcomed into the detail of others' lives. I have a greater appreciation of the world, and the opportunities I've had as a female, because of what I have observed and learned from travelling.
What would be your Plan B? What would you be doing if you didn't work at Brooke?
It's highly likely I would be working for another animal welfare organisation I admire. More far-fetched perhaps, would be to study animal behaviour in the wild. I can thank Jane Goodall for that interest!
What do you do after work?
I am a very social person; like equines, I don't like too much time by myself! I easily say 'yes' to any proposed London outing – dinner, drinks, theatre, sports, parks. I am a fair-weather stand up paddle boarder and enjoy photography as a hobby. I have travelled to over 50 countries so I can easily spend time daydreaming about my next destination. I often criticise myself for not being in touch enough with my family and friends back home in America – so a Skype or Face Time session should occupy my evenings more.
What makes you #ProudToBeBrooke?
I recently met a woman who has supported Brooke for over 60 years! She is one of many who, like me, believe that working equine welfare is an issue that matters. I'm proud of the around-the-world-solidarity which comes from being associated with Brooke. We're family!
Animal welfare refers to the physical and emotional state of an animal. It is impacted by the environment in which it lives and works, human attitudes and practices, and available resources.
It's important that people interacting with equine animals have a sufficient level of knowledge, skill and confidence in executing safe and welfare-friendly handling and restraint techniques.